NEWS
13.04.2018:
Raven surprised us by going into heat almost 2 months earlier than planned! So very soon we are off to Holland to breed her to this fabulous up and coming male!
We are very very pleased with how Raven has developed, so it will be exciting to see what she can produce.
Raven will have her won page soon. Until then look under "planned litters" to see more about this breeding.
____________________________________________________________
14.02.2018:
The puppies have preety much left for their new homes by now. Jersey is still around as she is moving to Germany...
Unfortunately a puppy buyer backed out at the very last moment, so we still have a boy available. He's a wonderful laid back happy boy, so if you are interested just give us a call :-)
Amazonite Boston;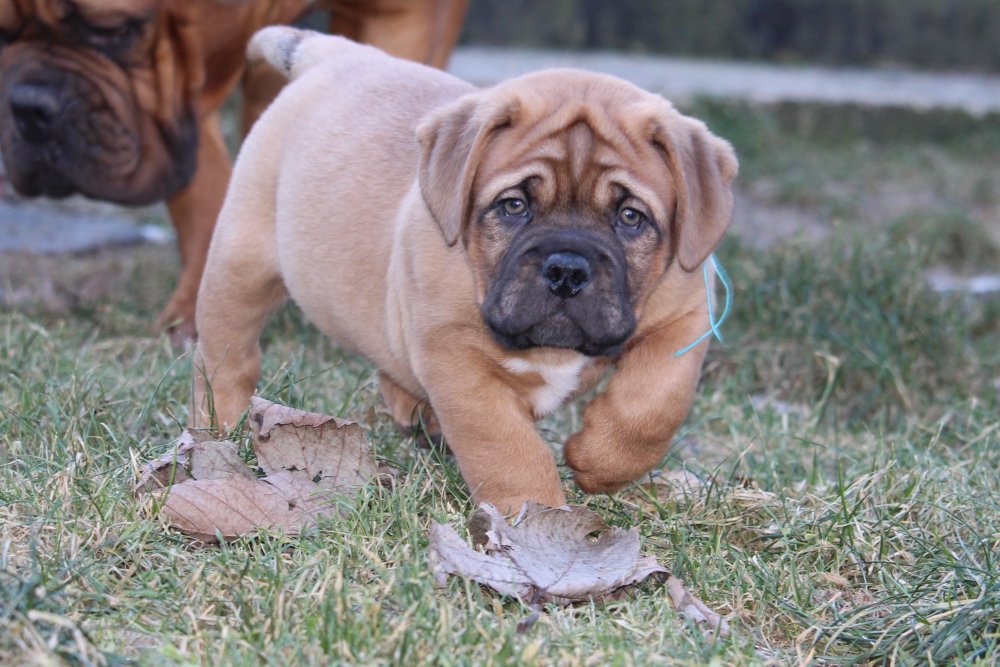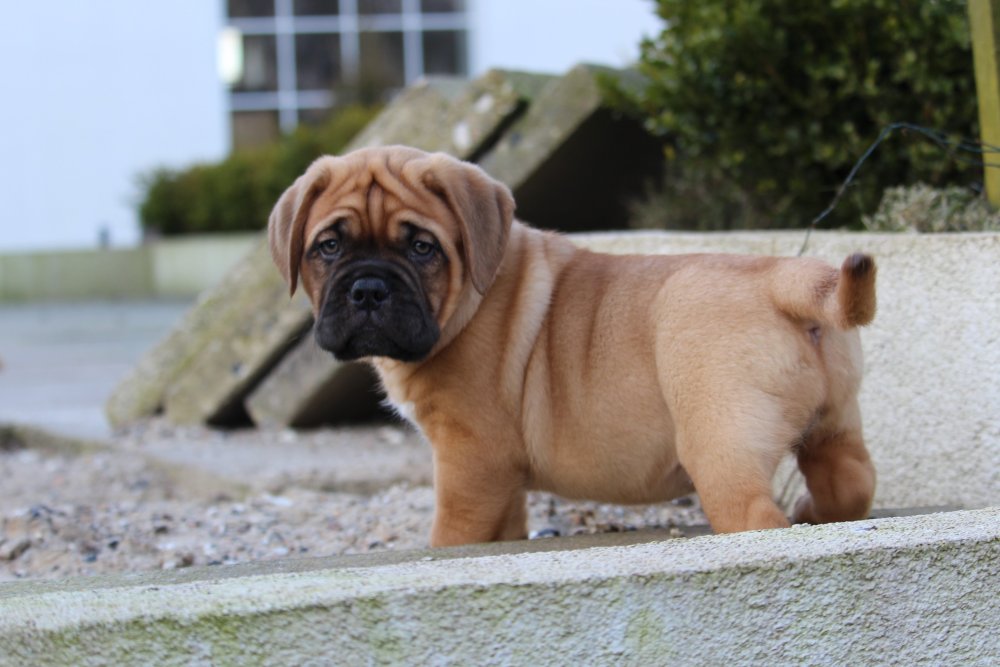 We are very happy our youngster Raven and she will be the next producer in our kennel. She was scored recently with perfect results (HD: A - ED: 0) and will be bred in her next heat. She hasn't been shown yet, but I hope to show her in 2018. Here she is;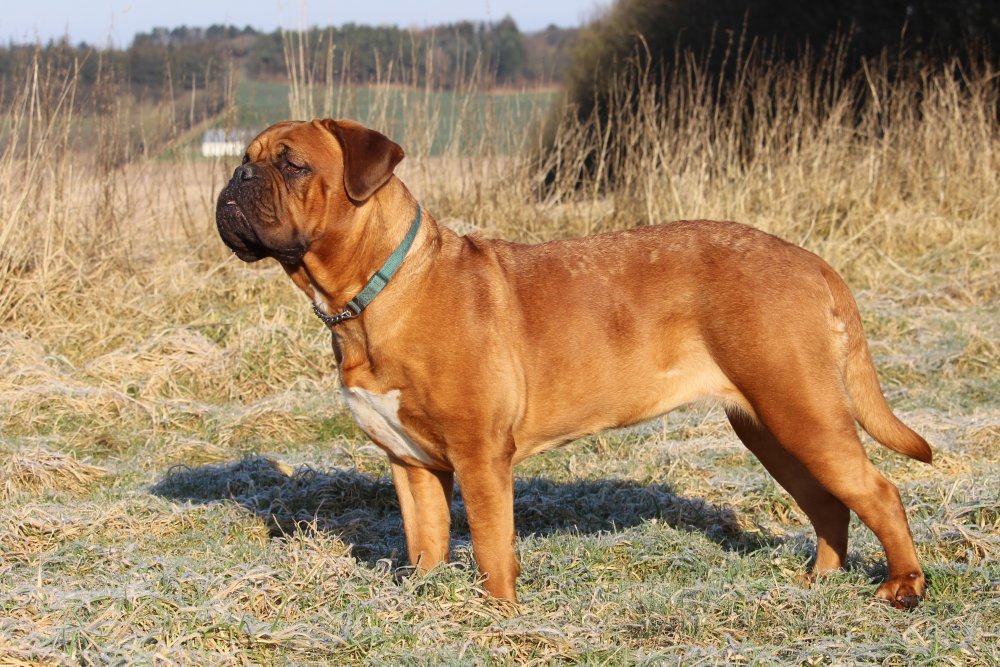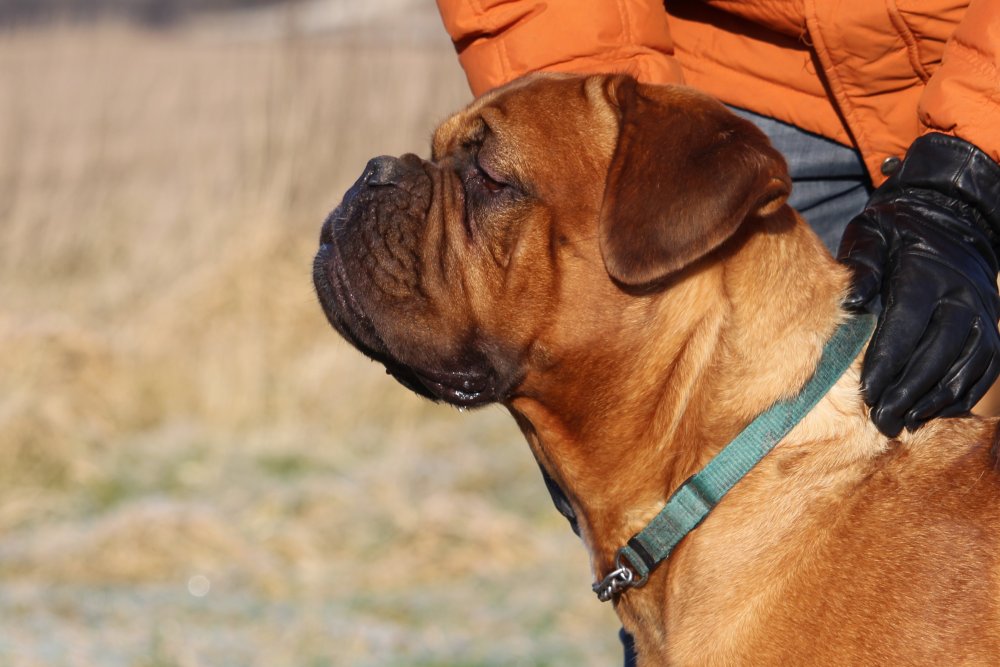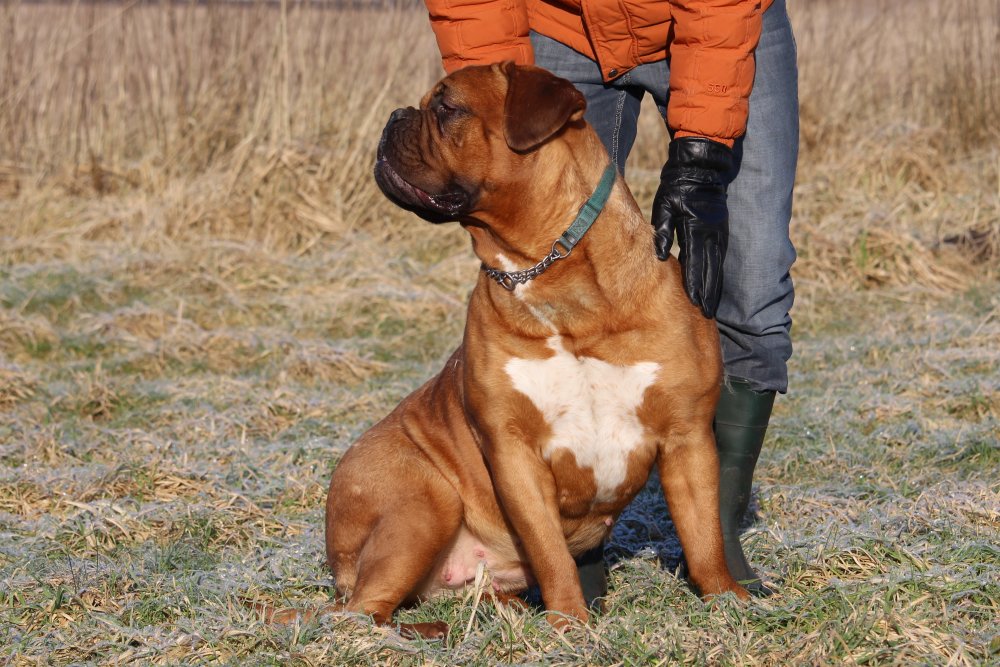 ____________________________________________________________
02.01.2018:
We are not great at updating anymore.... Life is busy with all sorts of things, so the time in front of the computer is limited to say the least.
We have a beautiful litter born on the 15th of December - 4 girls and 3 boys. All are doing great so far :-) As we loved our last litter so much we decided to repeat the breeding and use Nectar again. The last litter was very consistent in type, healthy and had wonderful tempers so we decided to use him again.
A few are still available, so if you are interested call us for more information :-) (+45) 29721799 or travelkay77@hotmail.com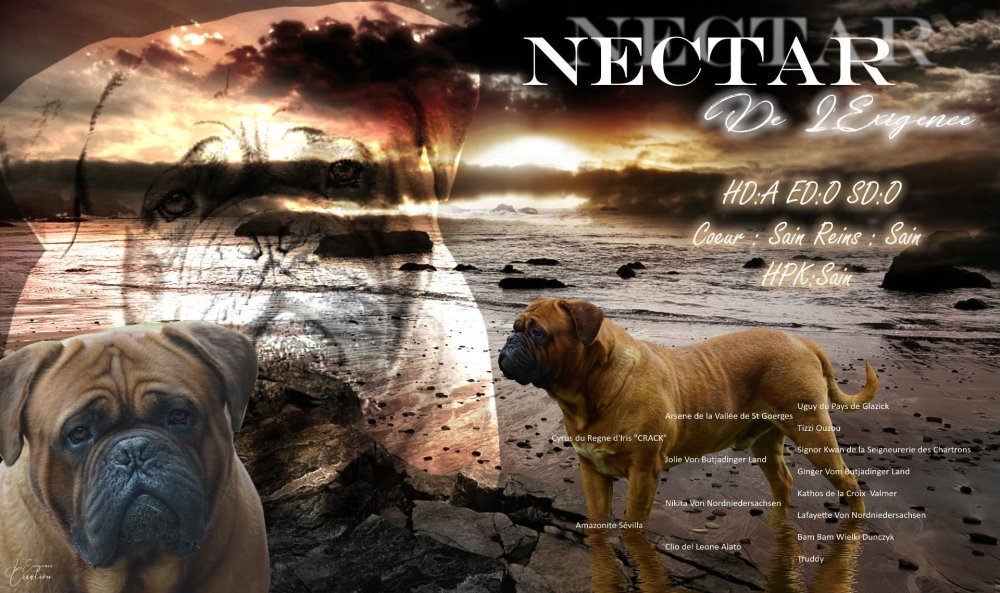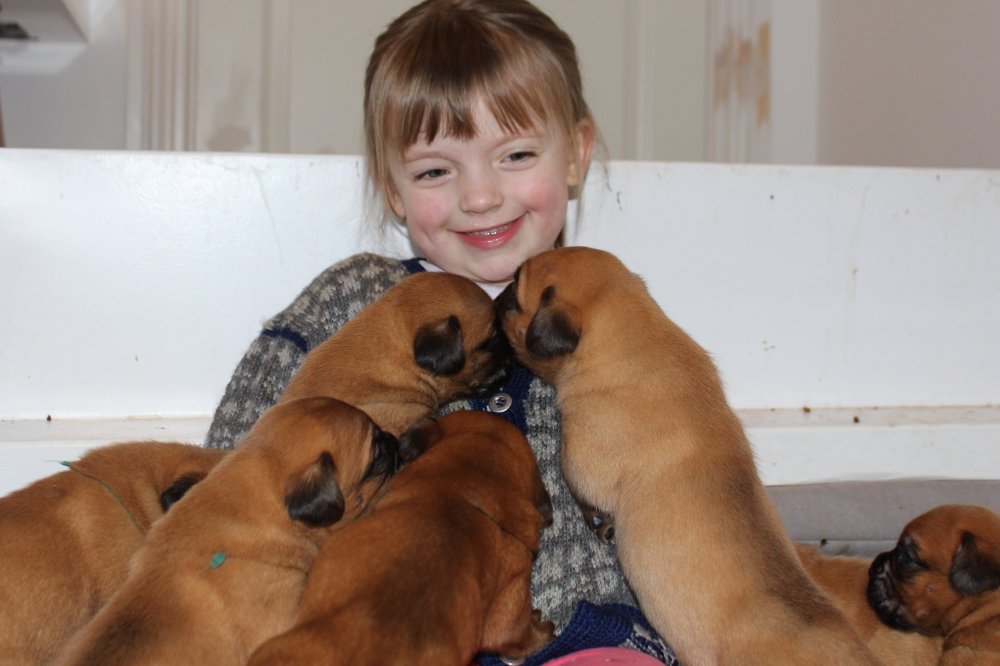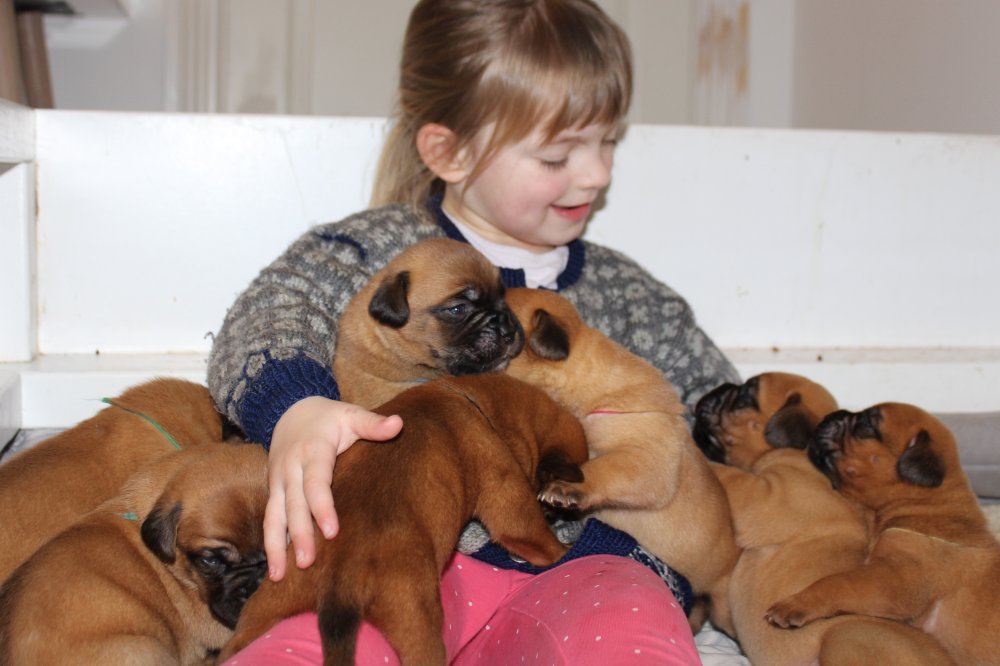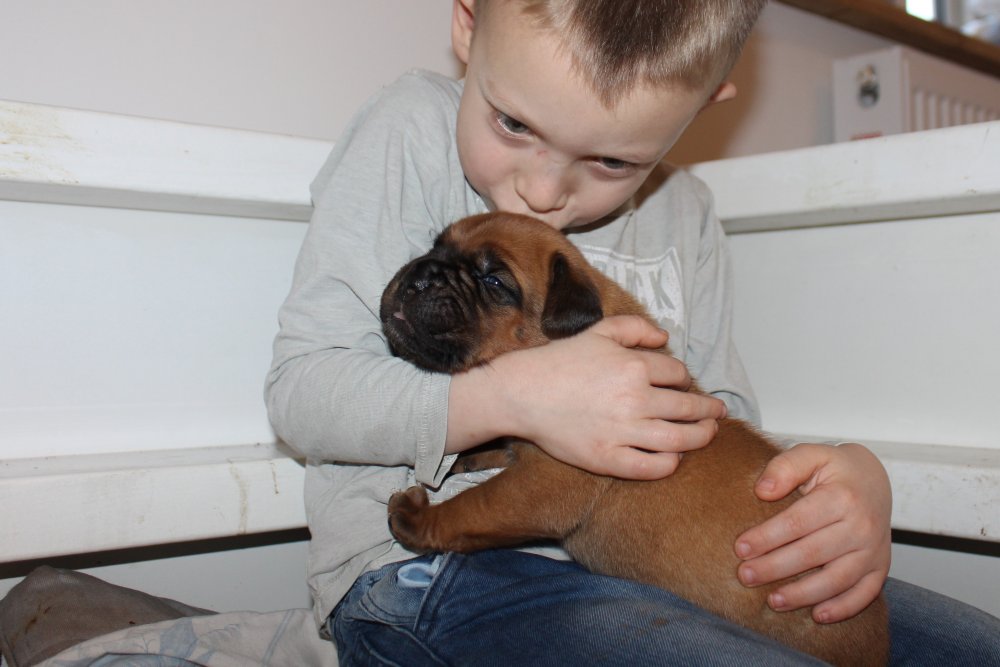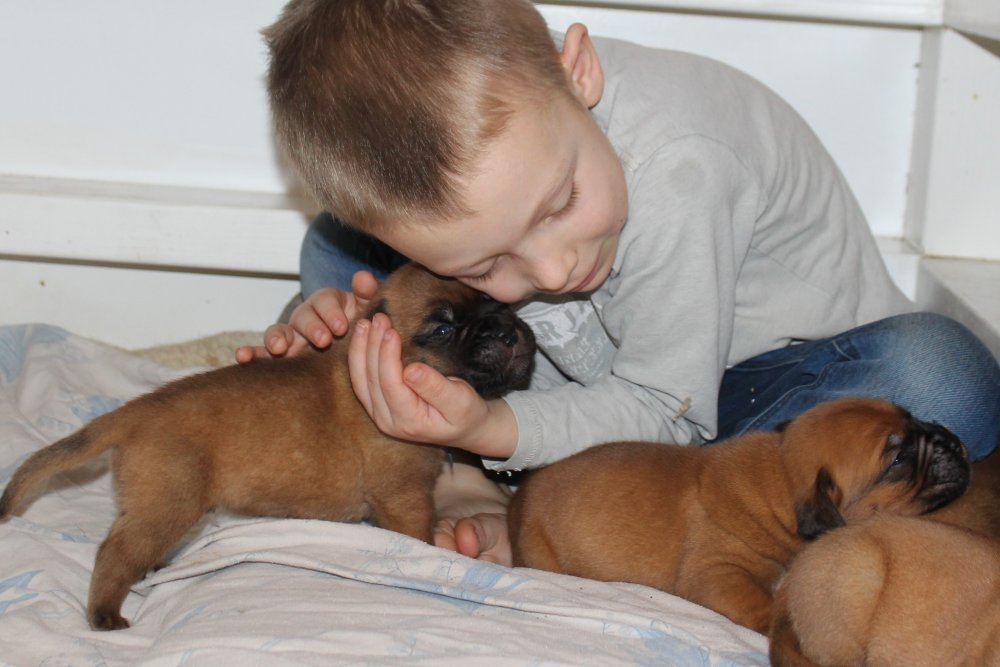 ___________________________________________________________
05.11.2017:
We finally have some news :-)
Our beautiful girl, Raven, was just tested and qualified for breeding. Her hip and elbow results came out perfect; HD:A and ED: 0, so we are very happy. She was just in heat and we bred her to a beautiful male, so all fingers are crossed for a beautiful litter.
Planned litters see it
here.
_____________________________________________________________
04.06.2017:
On May 14th the puppies arrived. Although the birth went well - 12 puppies delivered in barely 5 hours - we experienced something we have never before :-( 5 puppies were still born, another two came out lifeless but we could revive them. One puppy had clearly been gone for a while and seemed underdeveloped, but the others were fine and seemed to have passed during the birth for some reason. We lost another pup when they were a week old, so basically we are left with 6 puppies. Luckily they are doing well, but as you can imagine this was a bittersweet experience - hence the lack of updates.
But now it's time to enjoy them and show them off, so here they are;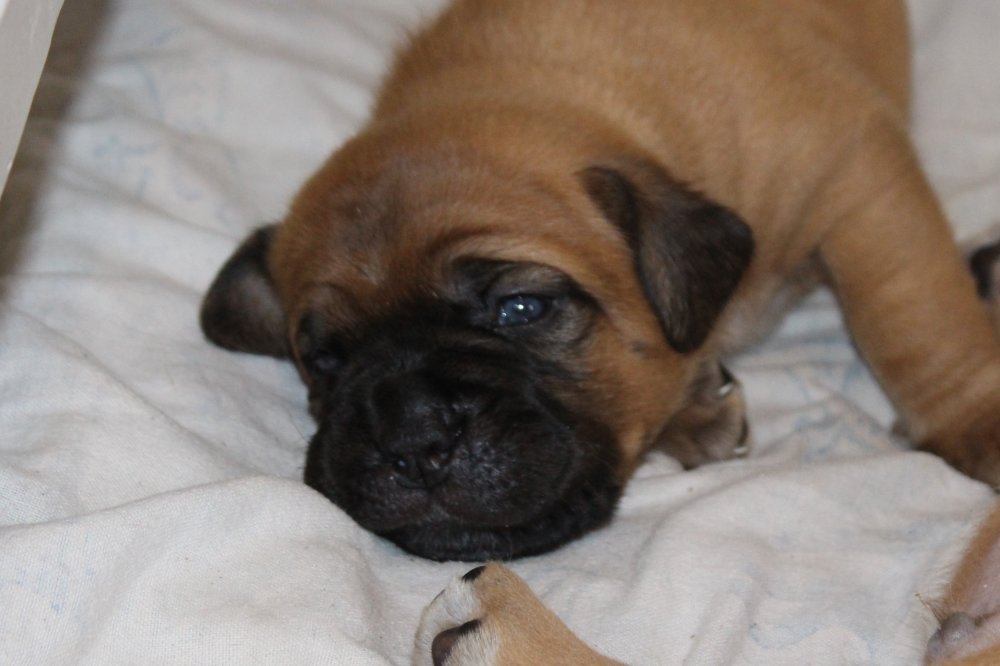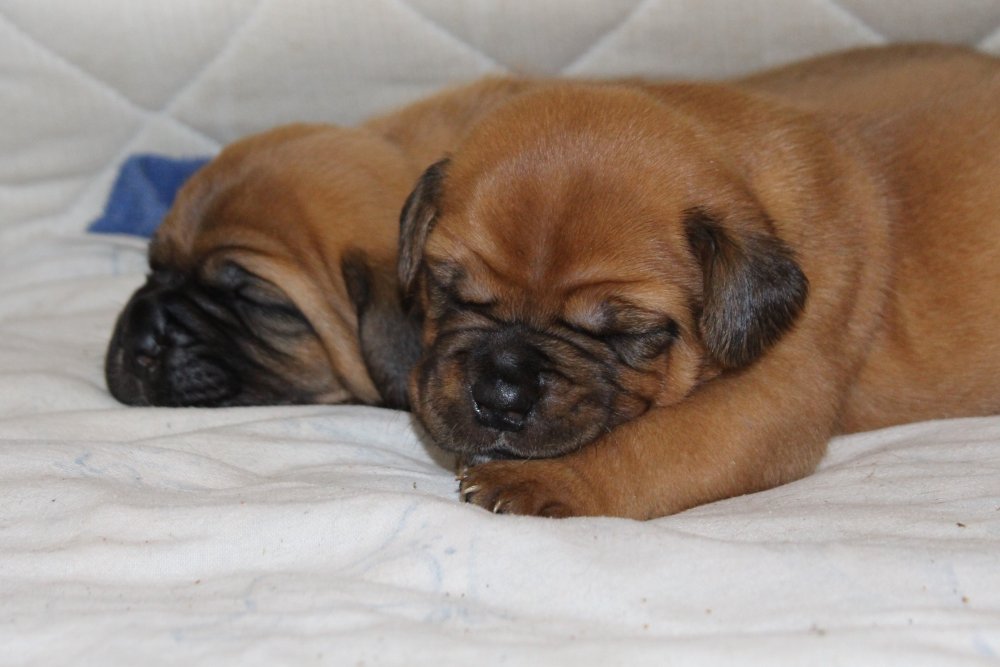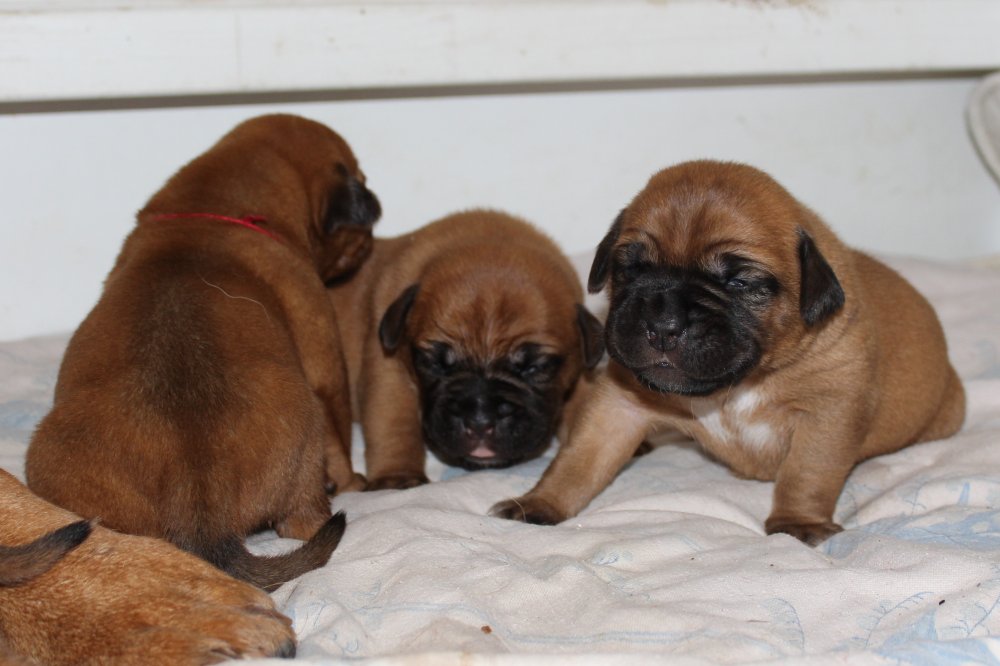 Just a short update from here.... stay tuned :-)
___________________________________________________________
17.04.2017:
Great news; we are expecting puppies! If al goes well they will arrive mid May, which means they will be ready to move to their new families mid July. It has been almost 2 years since the last time we had puppies so we are sooooo excited :-)
I will update again soon with pictures and more information.
_____________________________________________________________
28.02.2017:
It has been a whilewithout much to tell. I have been really busy setting up a business with a private practice, so my time the past year has pretty much been spent working on that.
I normally take a lot of pictures and download themon a regular basis,and I have been behind on that too. However I just did it tonight and realized that ALLof the dogue pictures are of us lazing in the couch with them :-) Haha...maybe it is time to get back in the show ring?
We plan on breeding Nyx one last time shortly. More about that when we have some information.
Raven, our baby, is growing up. I think she has turned out very nice - she's very athletic, well built and has a wonderful caracter. In April she will be old enough to have her official HD/ED scores done. As she is the daughter of Mambo, I really hope she can be part of our breeding programme, but time will tell.
I did a small album of uor latest pictures. See it here.
_____________________________________________________________
17.10.2016:
Unfortunately we got some sad news this time around... We lost our wonderful boy Mambo last month. He has been healthy and active his entire life and practically never had a day of sickness, but in early September we suddenly had a sudden bout of cramps that went on for a minute or so... He seemed fine afterwards and we thought it was a reaction to a change of cleaning devices.He was okay for a while and then it started again. It turned out to be a braintumor and it suddenly went downhill very fast. Within hours he became paralyzed (back part) and we had no choice. Needless to say it was a big loss for us and we were all very heartbroken.
There are so many fantastic memories to look back at with Mambo - all the wins, his puppies but most of all just the life we had with him. 6½ year was just not long enough... His dad was 9½ years old when he hied and we had hoped that Mambo would reach that age too.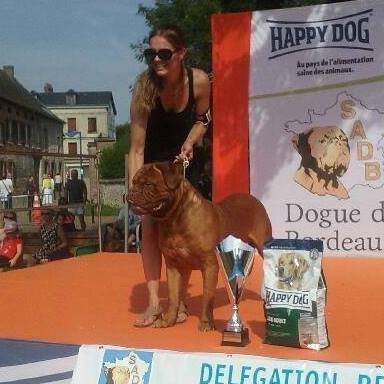 Winning the Champion class in France 2015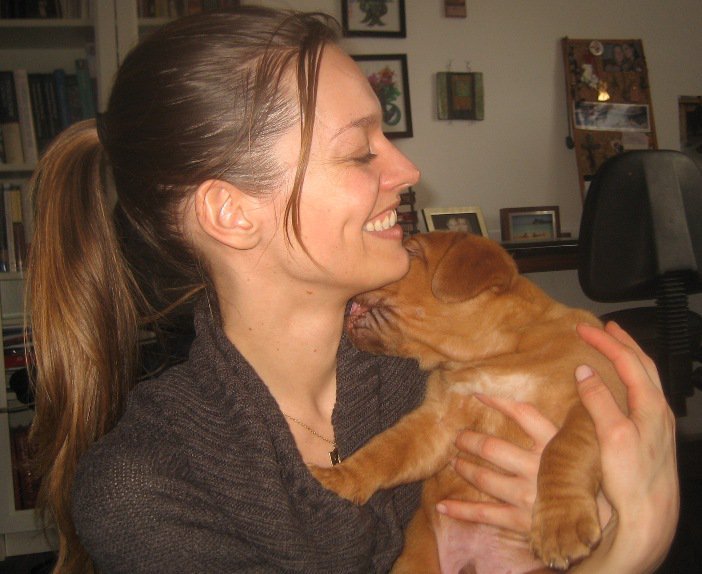 My baby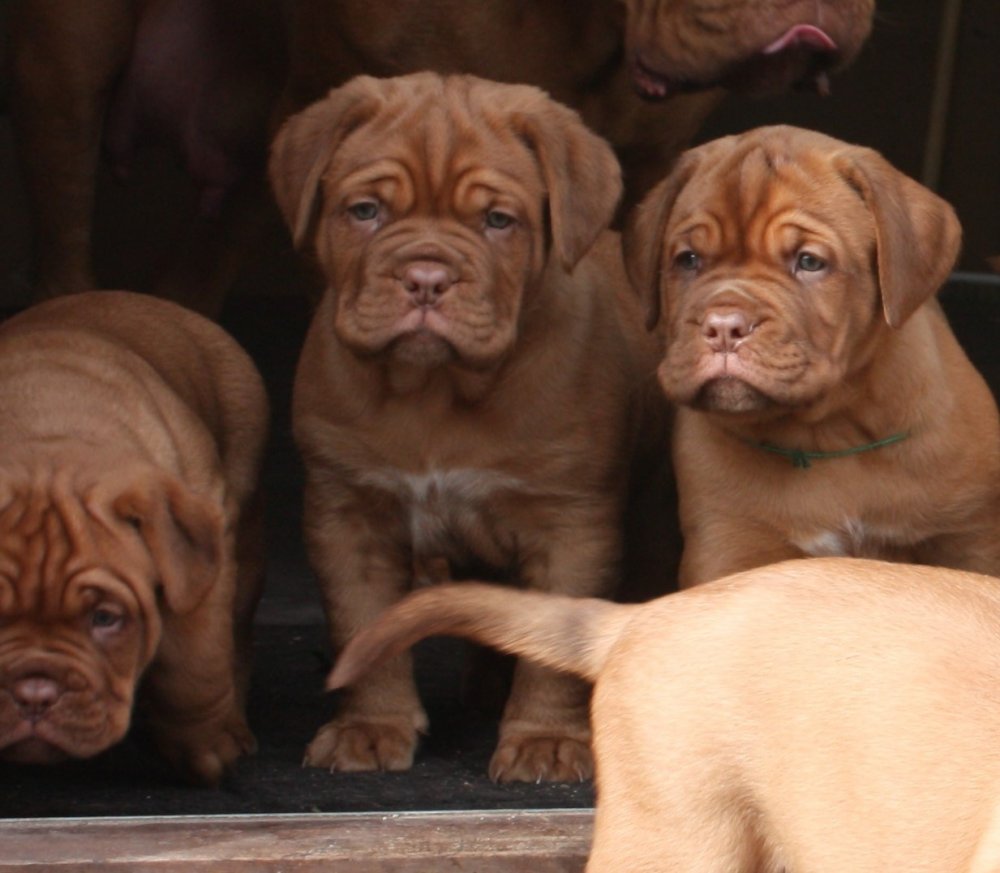 Standing out at the age of 6 weeks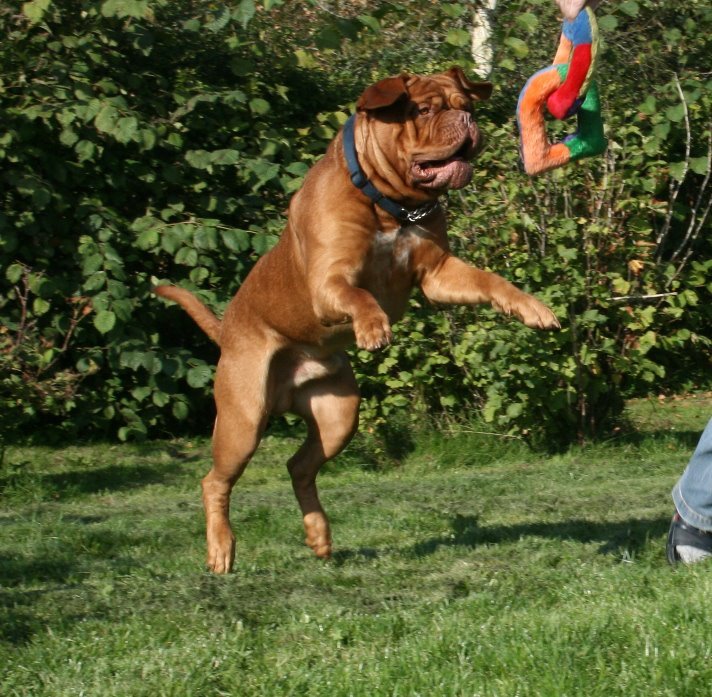 Our running-jumping maniac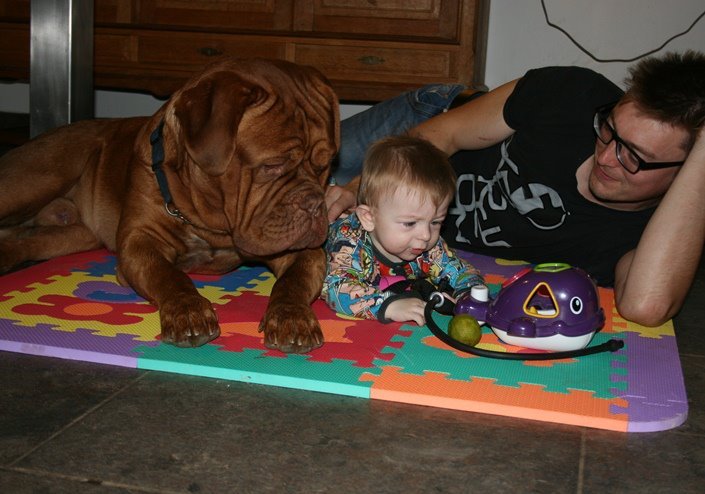 The best family dog you could ask for.
On a lighter note; our very first litter turned 8 years old on the 14th of October. 12 babies and as far as I know 5 have passed away (2 of them just recently) - the rest are still going strong. We received these wonderful birthday photos;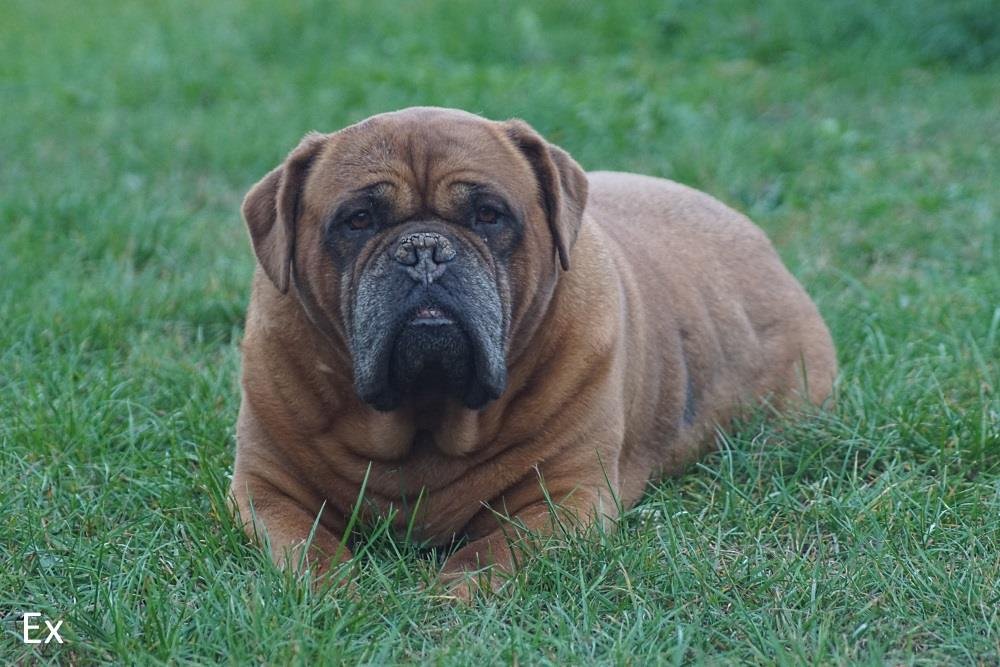 Beautiful Sevilla (lives in Belgium)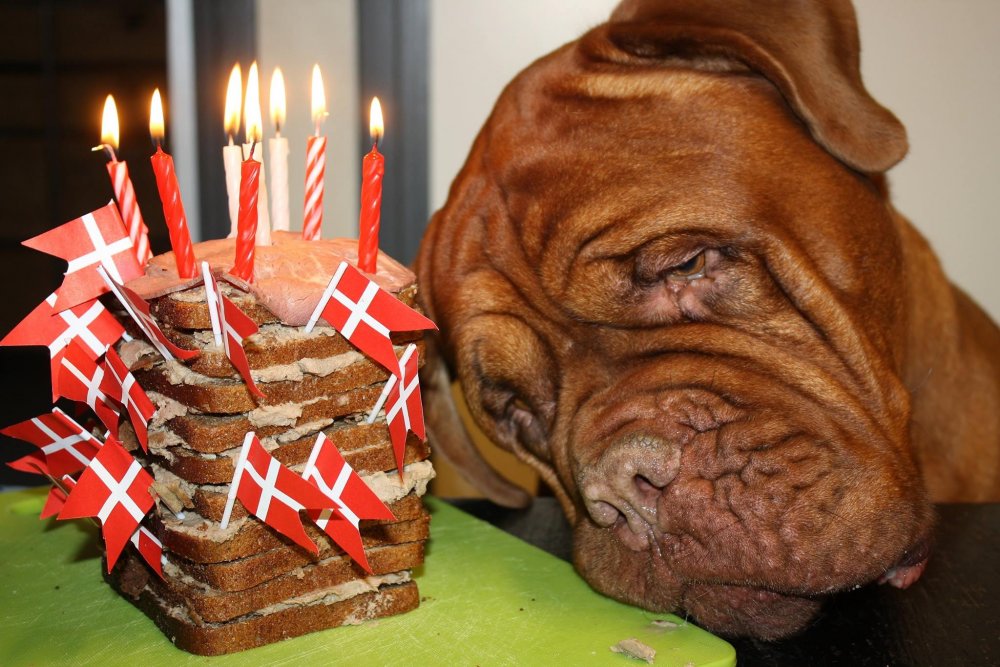 Spencer aka loves his "cake" :-)
We bred Nyx 5 weeks ago to Mambo - just before he got sick. We are waiting to see if there are puppies on the way; stay tuned!
_____________________________________________________________
16.08.2016:
WOW - this has to be the longest we have ever gone without an update!! And a lot has happened...
Firstly; Ranger has moved out to a new home. After he turned 2 and matured Mambo became less and less excited about him and the tensity between them grew. We decided that it was for the best that he moved, and in April he moved out to his sister, Rhea aka Mollie. We miss him, but he has settled in really well, and Mambo enjoys being king of the castle again.
Nyx was bred in her last heat and went empty... She will be bred to Mambo in her next heat very soon. We really liked how their last litter turned out, so we are repeating it hoping for a few more pups than last time (3 boys).
We have been really busy this year with renovating house and 3 kids.
Raven, our youngest dogue, is 10 months old now and looks great. We plan on showing her next year. This year we just haven't had the time. Will make her a page soon.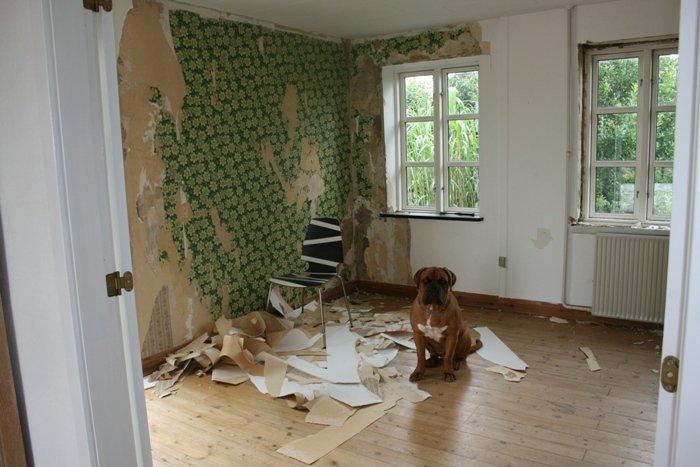 Raven wants to be right in the actions! She is ALWAYS where you are :-)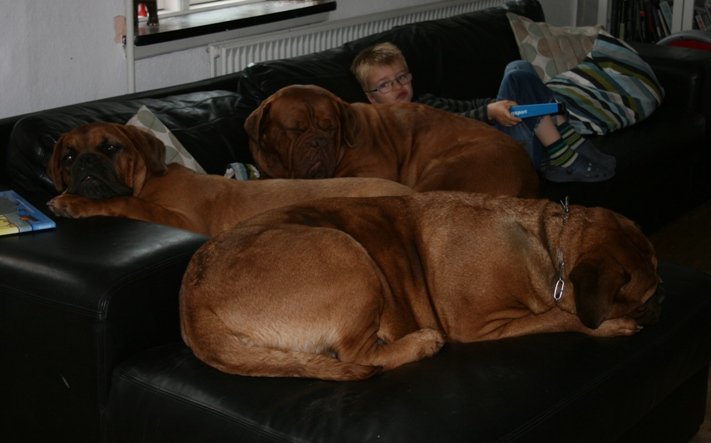 Just hanging out :-)
____________________________________________________________
18.01.2016:
All pups have now left except for Black Velvet who will leave for Czech Republic in a while. Raven stays with us :-) Isn't she a beauty? She's a mix between our two original bloodlines. Will be exciting to see how she turns out when she is fully grown.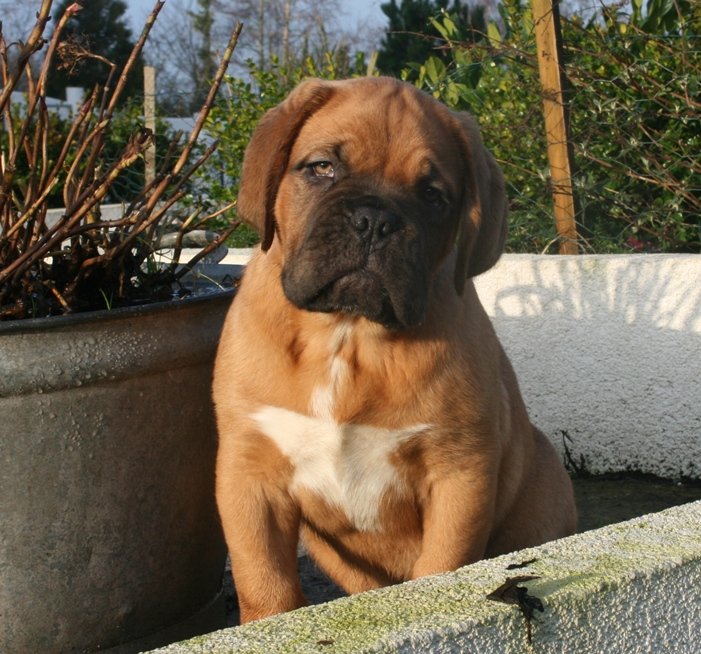 It's been snowing like crazy and is really-uh cold, so we are spending all our time inside these days.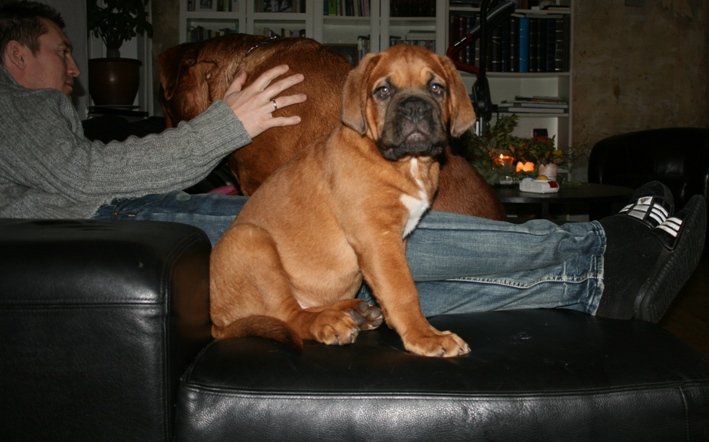 Steady "helpers" in the kitchen while packing the kids' lunch.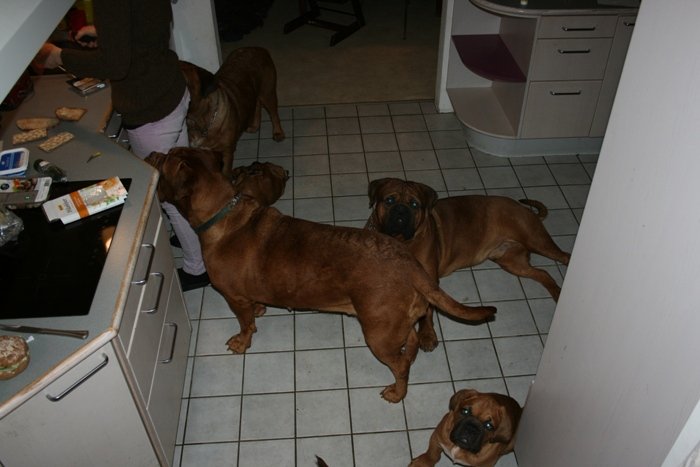 We decided a while back to co-own a new beautiful female with another kennel. Her name is Centio Genesis and she lives with our friend Marianne, Kennel Centio. She was x-rayed with an excellent result; HD: A - ED: 0 and was just bred to our male multi champion Amazonite Mucho Mambo, HD: A - ED: 0. We still don't know if she is pregnant or not, but stay tuned Here's a picture of her;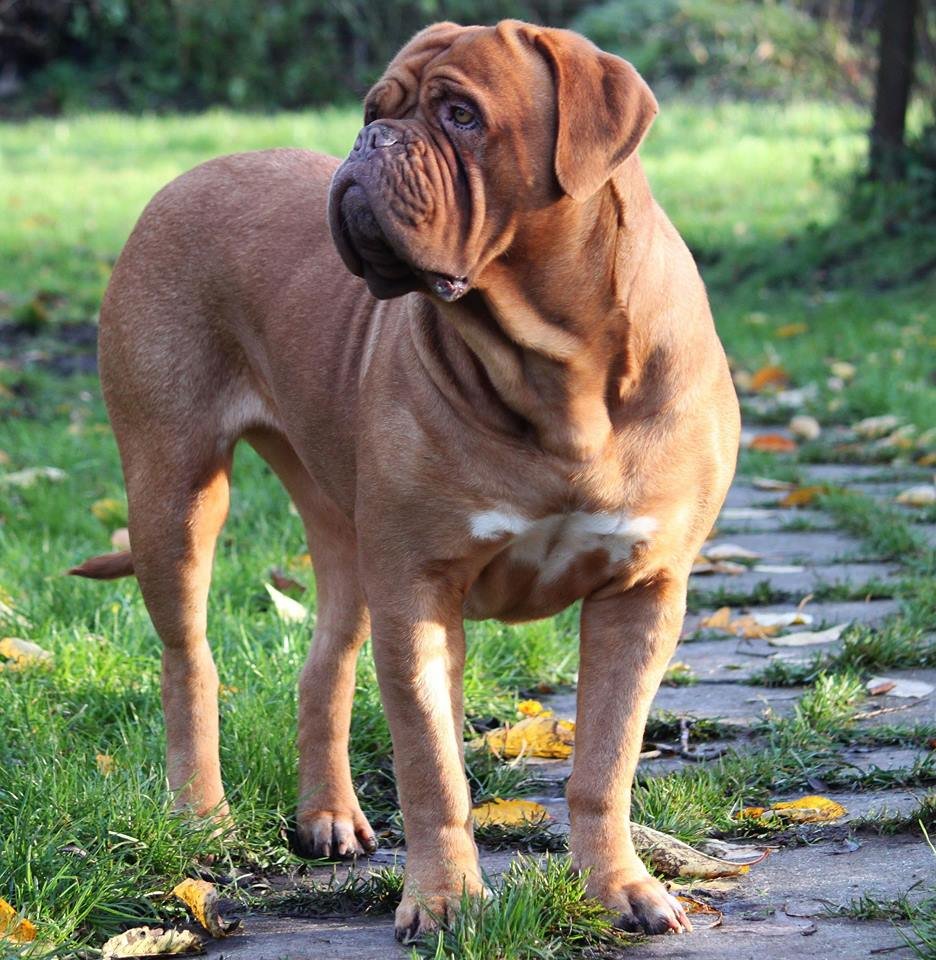 ________________________________________________________
01.01.2016:
A new year has begun and we are looking forward to see what 2016 will bring :-) I actually planned on going to the world show this year, but after realizing that it is in Moscow I dropped that idea again! Just too far away...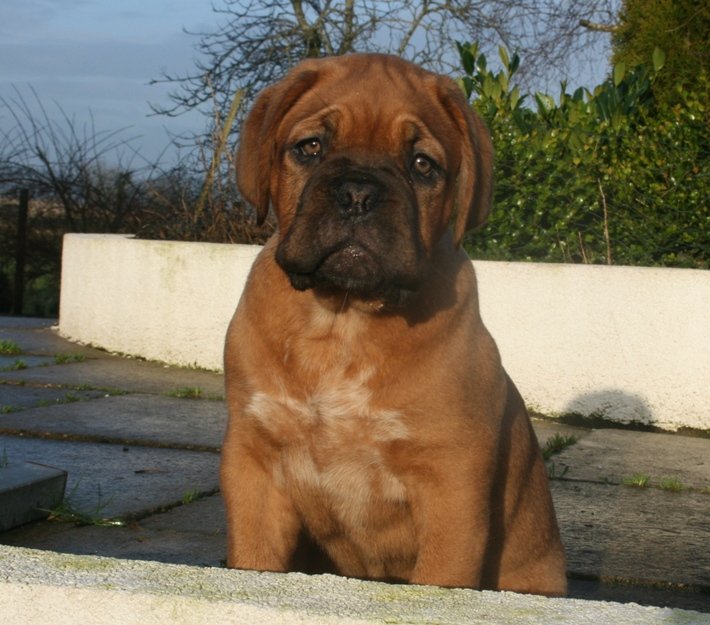 Amazonite Black Velvet (above)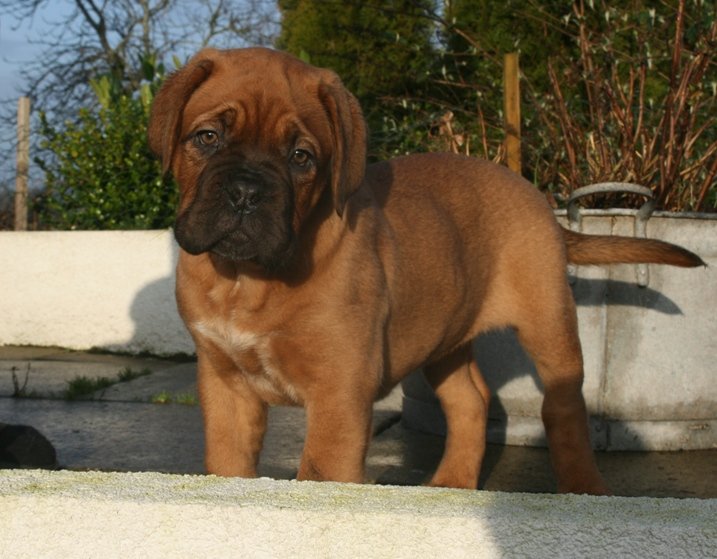 Amazonite Twilight
All the other puppies have left for their new homes and all are doing great. We have received some wonderful pictures of them and we always appreciate it :-)
See A L L the last puppy pictures
here
.
____________________________________________________________
21.11.2015:
The puppies are 5 weeks old today. They are an active, loud and totally cute gang :-) Most of them are sold, but we still have 2 beautiful black masked girls available.
See their new pictures in the gallery
here
.
Nyx loves to babysit and even tries to nurse the puppies. I have never seen a female (who is not their mother) try to feed puppies before :-), but she lets them "eat" and loves to stay with them.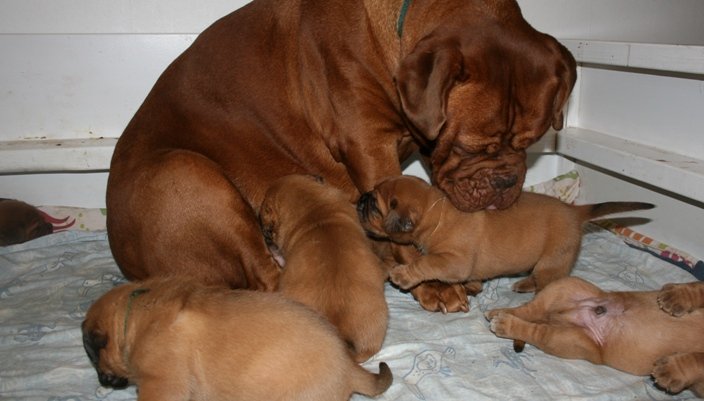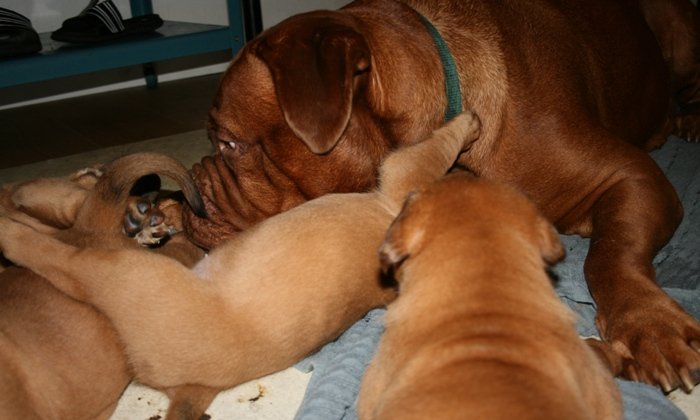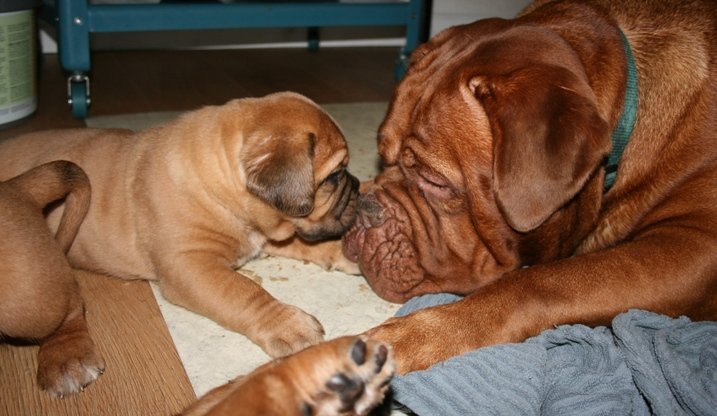 We have a new dogue in our kennel! Or rightly said; we have taken a dogue in partnership with our friend Marianne, Kennel Centio. It means we co own Her homebred dogue, Centio Genesis. Genesis was recently scored with excellent results (HD: A - ED: 0). She will have her own page here on our site shortly.
_____________________________________________________________
12.11.2015:
Sometimes things happens fast... Amazonite Riverside was rehomed in just one day. A previous puppy buyer of ours needed an extra dogue as their older female was feeling lonely after loosing their other dogue. So today he's moving.
The puppies are now 3½ weeks old. They are moving around and making a lot of noice. The are playimg and a few of them now know how to crawl out of the puppy-box.
See pictures of them
here.
_______________________________________________________
08.11.2015:
Everything is going well with our gang! They are now 3 weeks old and the first visitors are beginning to drop by :-)
We have chosen a black themed litter, and the names are;
Amazonite Kuro (boy)
Amazonite Black Jack (boy)
Amazonite Raven
Amazonite Twilight
Amazonite Black Mamba
Amazonite Black Velvet
Amazonite Onyx
Amazonite Ruby (the red masked)
See the new pictures here.

_______________________________________________________
29.10.2015:
Everybody survived the first week, which is usually a good sign! They are now 12 days old and doing great. A few have gotten eyes too...
It is always a relief to get past the first days with a litter. Now it happens fast and I can't wait to watch the get on their feet and run around.
_____________________________________________________
18.10.2015:
Wonderful news!! Rio's puppies are here!!! It came as a surprise as I didn't think it would be any earlier than Tuesday, but suddenly she started panting and a few hours later the water broke and 7 beautiful puppies were born in 4½ hours. Then 3 hours later number 8 arrived - a bit tired and weak, but alive!
After quite a few litters with mainly male puppies this litter is a big turn-around! 2 black masked males and 5 black masked females and 1 red masked female. So far they look really good. They are all very dark red with broad, wide muzzles. Will be very exciting to see them grow. Rio is a fantastic mother and seems to know exactly what to do.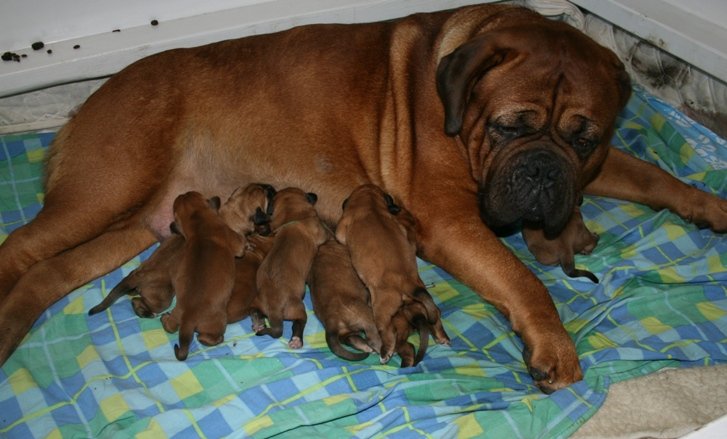 See more in their gallery
here.
A few weeks ago Pondus was x-rayed. Unfortunately not with the best result :-( Males more or less need to be perfect in orden to go into breeding, so unfortunately this means that he will not be part of our breeding programme. He has a good and a not so good hip (probably D)... It came as a surprise to me (although the years with this breed has taught me that you just NEVER can tell when it comes to HD results) because he is just soooo athletic! He is running/jumping maniac so I honestly expected something else. Of course it is dissapointing because he is such a beautiful boy and has the best temper as well. Unfortunately breeding is like this sometimes :-/ We are thinking about rehoming him, but it's hard as he is just so wonderful and the best companion you can get...So we will see what happens...
On the 14th of October our very first litter turned 7 years old. Out of the 12 puppies born - 8 are still alive and doing great. We got a new pictures of Sevilla and Shea :-)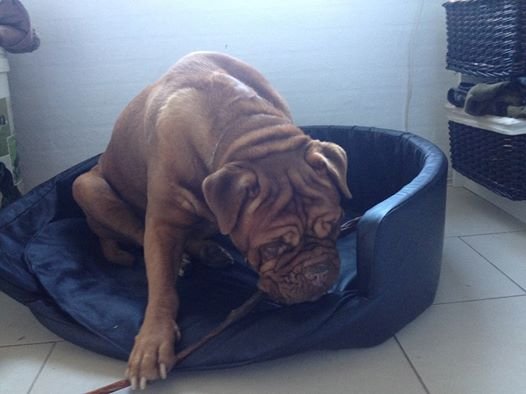 ______________________________________________________
24.09.2015:
Great news from here! Rio is expecting puppies around the 20th of October. As she didn't really show any signs of pregnancy we were sure that she was empty, but suddenly she started looking fat, having mucus etc. so now we are no longer in doubt. Nyx went into heat as well just now, but we will not breed her until next heat as we think one litter at a time is enough :-)
We have been up to our ears in house renovating, but in 2 weeks we are done and life can get back to normal! That means getting out to a few more shows and Ranger who just turned 18 months will be scored shortly. I think he is a nice looking youngster, so it will be exciting to see if he makes the cut or not. I have learned to expect nothing and just be pleasantly surprised... He is very athletic, but that is no garantee. We will see what the x-rays say.
Here's a few pictures of him from the French Clubmatch. I will update his gallery when life's less hectic :-)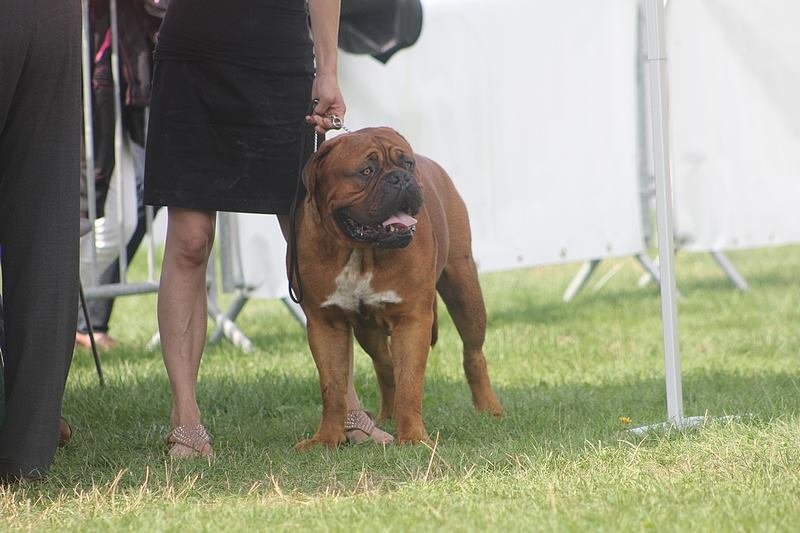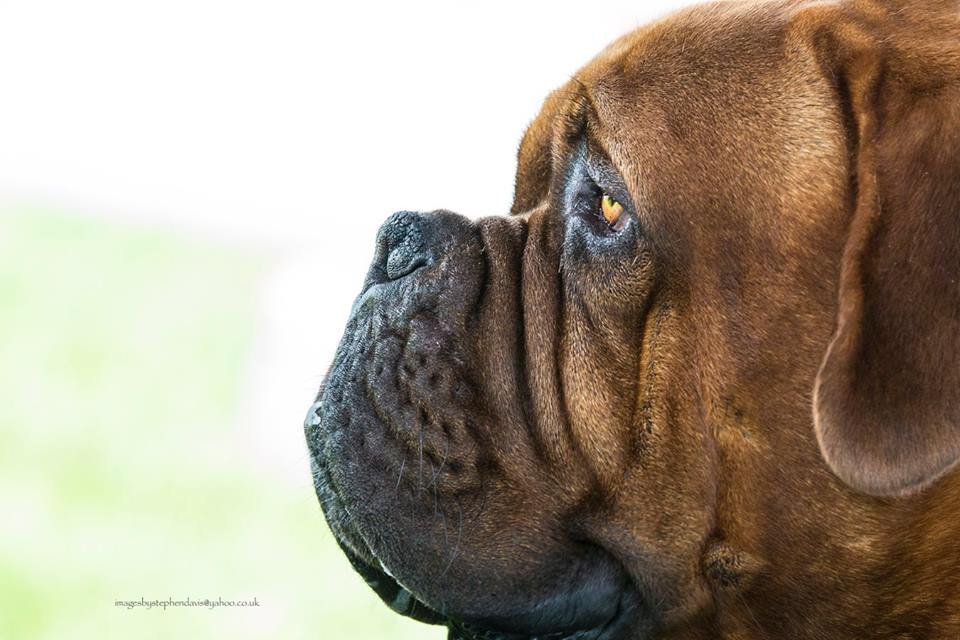 ______________________________________________________
13.09.2015:
We came back - almost 2 weeks ago - after a fantastic weekend in France. I went to promote our young male, Ranger, as I haven't shown him at all since he was a baby. Although Mambo actually retired last year when he became International Champion and he's nearly 6 years old I still think he looks pretty good and I decided to bring him along to keep Ranger company - and enter him in the champion class. Ranger got an excellent and a very good critique but wasn't place. Mambo however won the champion class!
I have been 3 times to the French Clubmatch with Mambo and he's been placed every time. It is always very special to be placed with a puppy, because it is the beginning pf a show carreer, but it is even more special to be able to back with a fully grown dogue and win again. Which is exactly what Mambo did; he won the Ingtermediate class when he was 18 months old and now the Champion Class at 5½ years old. I'm very proud of him and of having bred him here in our kennel. WHen we started out with this breed you literally could not buy a show-potential Dogue de Bordeaux in Denmark. It was a goal for us to be able to produce dogues where the best could compete internationally. It seems that with Mambo we achieved that. And Matrix who got several champion titles in the US and Roumba in Finland.
But most importantly Mambo is the best faily dogue you can imagine :-)
Here's a trip down memory lane;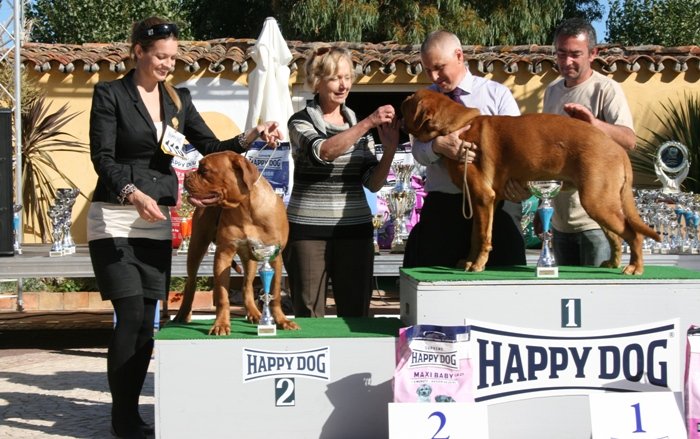 Mambo - 2nd best male puppy - 6 months old.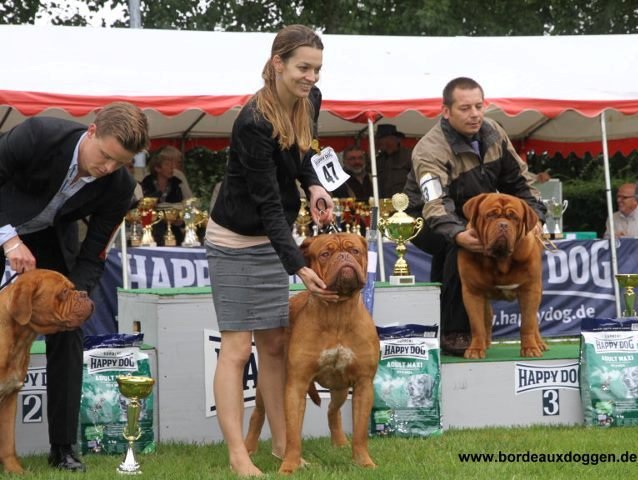 Mambo - Best Intermediate Male 2011 - 18 months old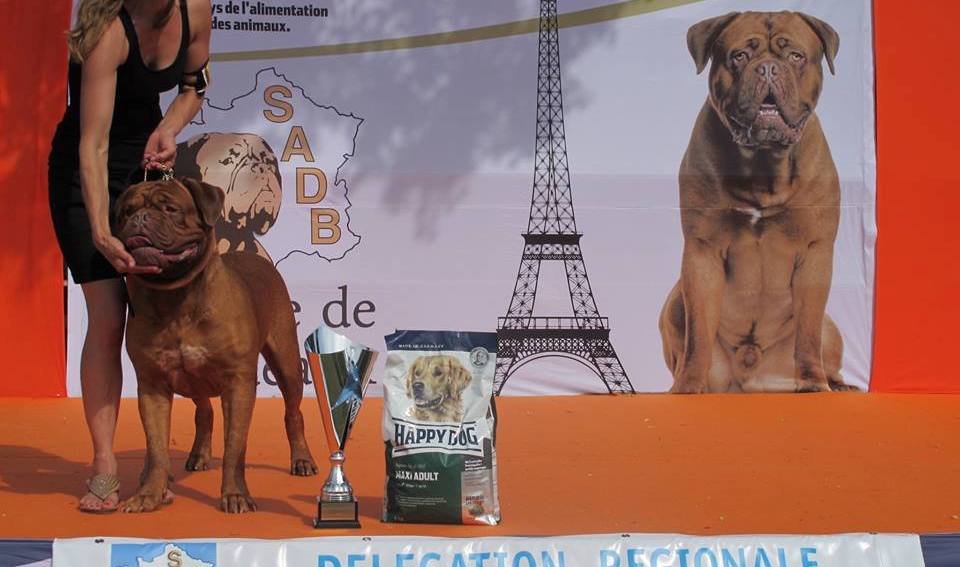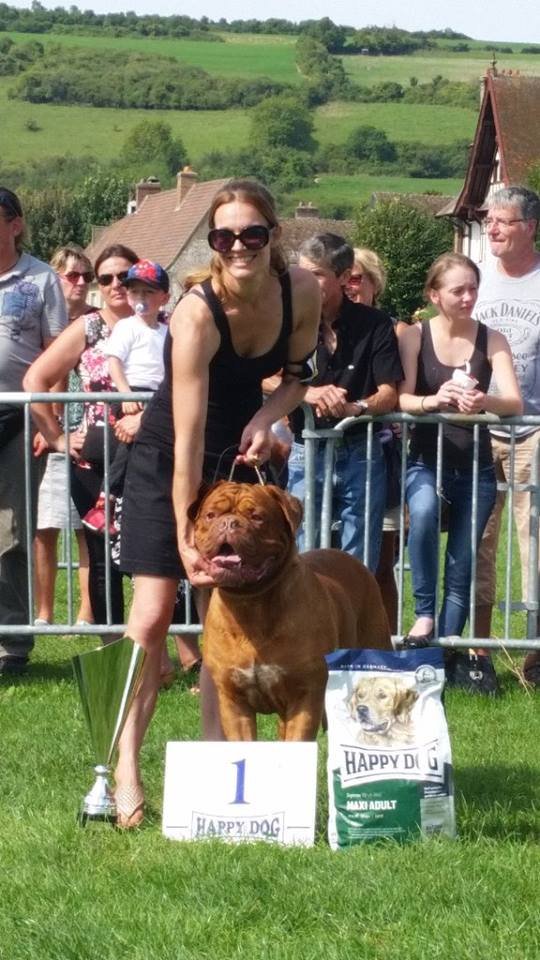 Mambo - Best Champion Male 2015 - 5½ years old
See more pictures from the show here.
It was over 30 degrees - way to hot to show... But we had a great time :-)
_______________________________________________________
30.07.2015:
All the puppies have now left for their new homes and since Nyx only had 3 puppies and it wasn't exactly hard on her we have decided to breed her again in her next heat. See more about her next litter
here
.
Rio will be in heat soon and because we liked Nyx' litter so much we have decided to breed her to Mambo. Also we hope to keep a female for ourselves from this breeding.
We haven't had time to show at all for ages, but we have decided to go to the French Clubmatch this year. We are showing Mambo in the champion class and Pondus in Intermediate male. Exciting :-)!
Amazonite Roumba (aka Seita) continue to rock showwise and is now Estonias Junior Champion (became BOB two days in a row).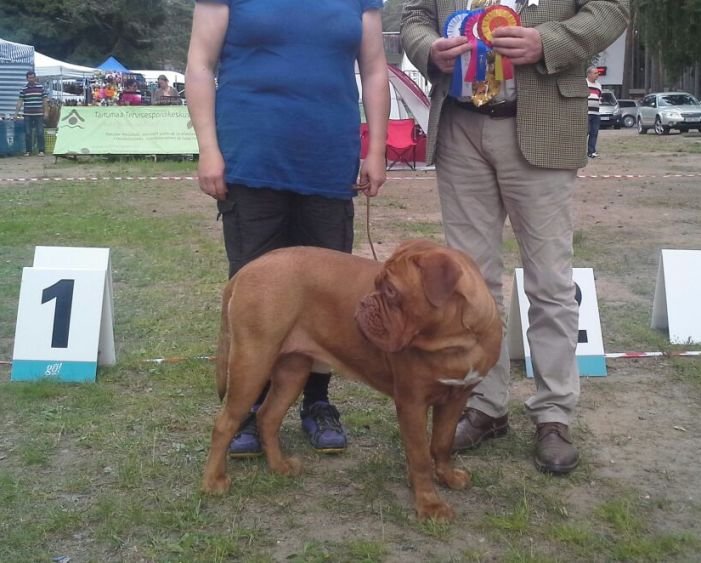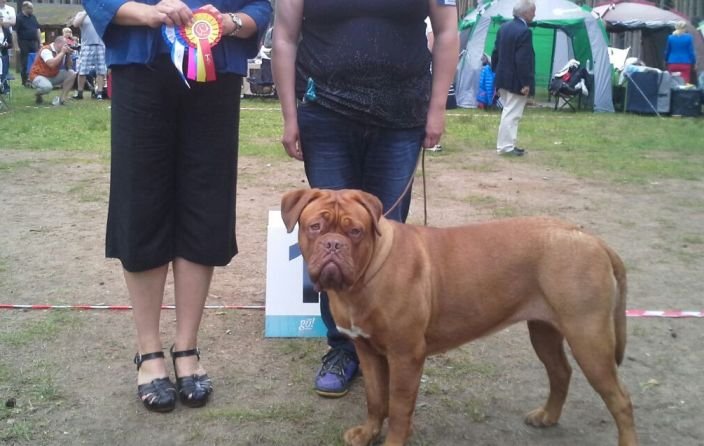 _______________________________________________________
28.06.2015:
I haven't been the best at updating this time around! I've had a couple if hectic deadlines at work and at home we are working on our house at any given chance, so the time in front of the computer is next to none...
Hard to believe that the first puppy is leaving in less than a week! They are just the sweetest little bunch and we are going to enjoy every second with them.
New pictures in the gallery - see it
here
.
Colombo is moving to Copenhagen and Marco Polo is moving to Germany (when he can due to the new rabia rules).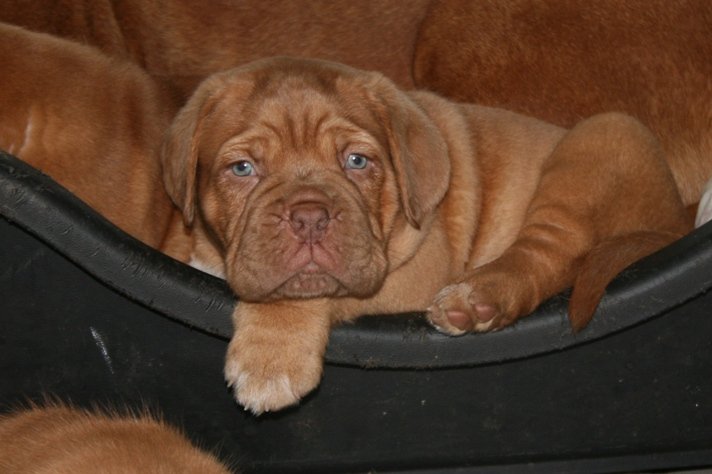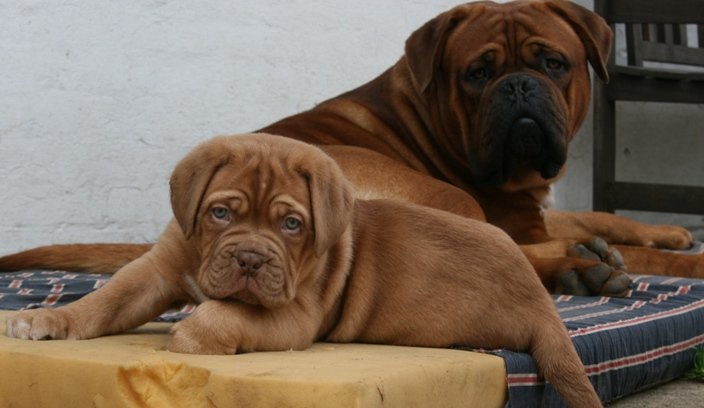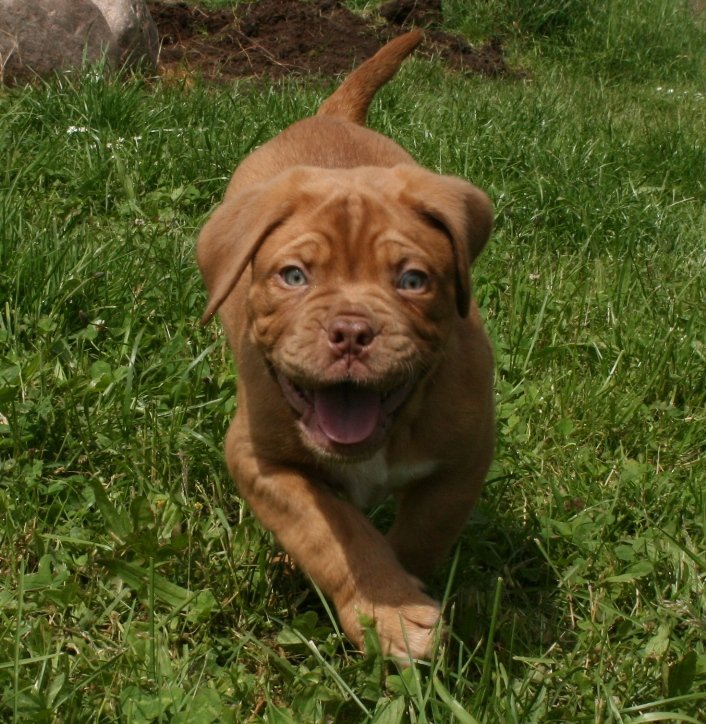 ______________________________________________________________
14.06.2015:
Time is passing by way too fast and in just 2 weeks our babies are moving to their new homes!
These days we are also doing a lot of house renovating and it pretty much takes up all our time. For that reason we don't have time to show at the moment, but hopefully we will be back in the showring later this year.
Since we are no-shows it is great that some of "our" puppies are shown by other people. Amazonite Roumba (Finland) is doing great and just got her first title "Estonian Junior Winner". Also Mambos daughter from Kennel Shadow of Oak did well at the Danish Club show and became best puppy. See pics below.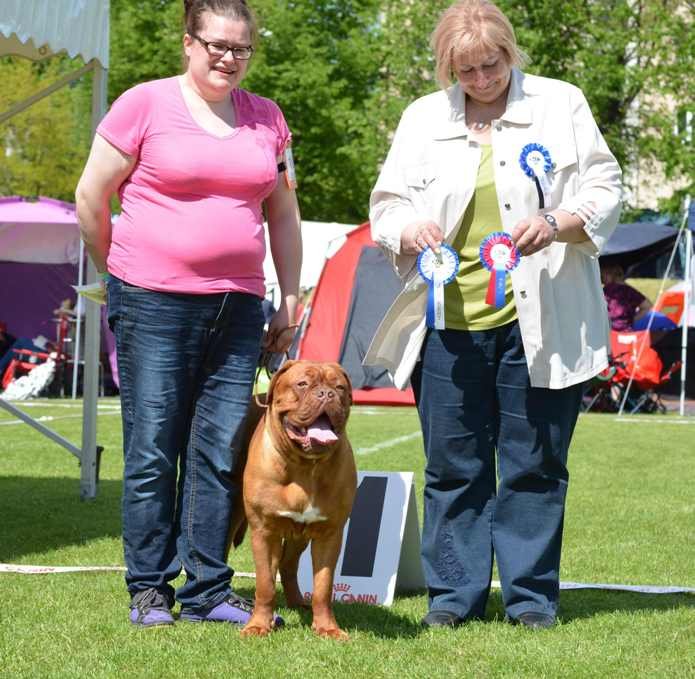 Amazonite Roumba aka Seita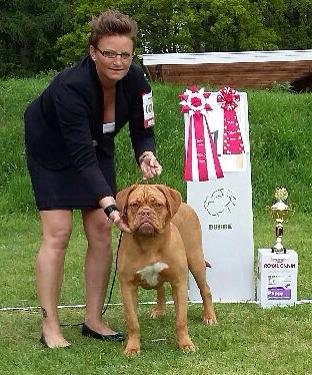 Amazonite Mucho Mambos daughter "Judy" - she looks a lot like J'adore!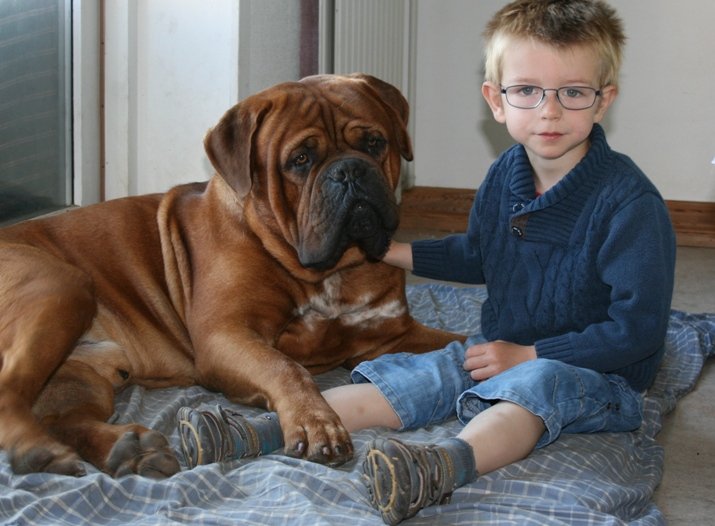 Pondus & Storm - best friends!
The puppies are doing really great
--------------------------------------------------------------------------------
30.05.2015:
It has been too long, I know... Time is just flying and the pups are almost a month! They are all doing great and have grown well into fat little monsters :-) Soooooo cute!!!
Nyx are no longer interested in staying in the puppy room for too long, so we let the other dogues come in from time to time. Rio loves them and helps taking care of them.
I have made a gallery for them - see it
here
.
We are renovating hous BIG TIME and for that reason we are no-show at the shows for the moment. I do hope to show Rio and Pondus in the Fall though.
_______________________________________________________
06.05.2015:
Nyx' puppies are finally here! As I expected it was a small litter; 3 beautiful boys with an attitude.
She popped the first one in one of the doggie beds just as I came back from kindergarten with 2 kids. It was so lucky that I came home that second because the puppy was still covered and Nyx was anxious because of the other dogues and didn't really know what to do. I got the rest of the gang shuffled away, got the puppy cleaned up andgot Nyx and the baby into the puppy room. Soon after the second puppy followed and an hour later puppy number 3 arrived. The whole thing went smoothly and was over in less than 90 minutes. Everybody's doing great!
I thought they should be named after the 3 musketeers, but Ryan thought they should be named after great exploreres, so the names are;
Amazonite Colombus
Amazonite Marco Polo
Amazonite Vasco de Gama
Here's a picture of mom and babies;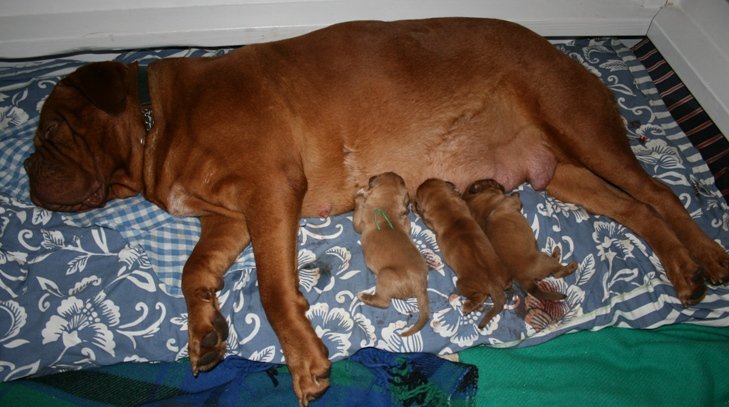 _______________________________________________________
02.05.2015:
Very soon now... Nyx' puppies should be here very soon!! She sleeps most of the time now, so I'm sure she is looking forward to getting them out.
She is not very big, so I would guess that she has 3-4 puppies, but time will tell. Here's a few pictures if the expectant mama;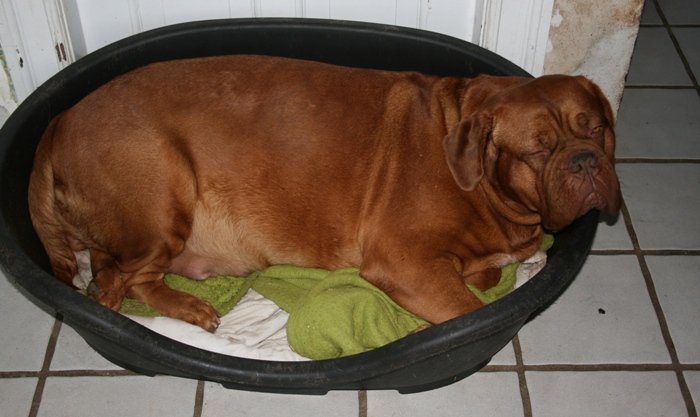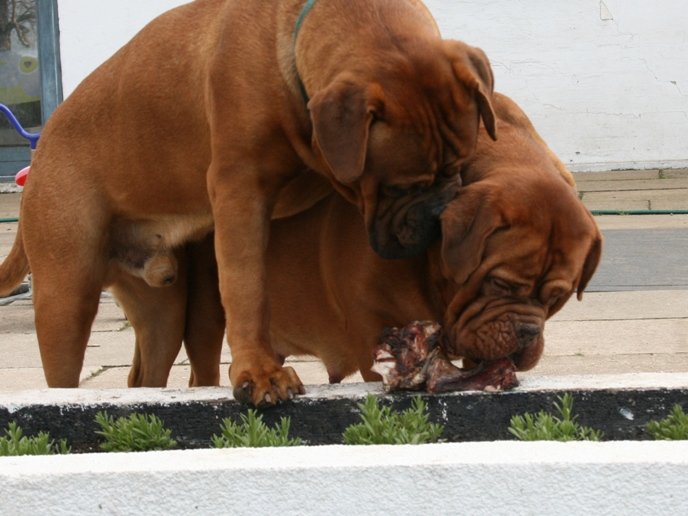 ______________________________________________________
01.04.2015:
It has been a while again.... In beteween starting a new job, kids, the flu and what not times has just flown by.
Nyx was bred 3½ weeks ago and we are pretty sure that she is pregnant. She is showing all signs, but it is still a bit early to tell for sure. However we think we will have puppies in our kennel early May :-)
I updated Pondus' gallery - see it here! I hardly ever get any good pictures of "Mr-Impossible-to-photograph" as he RUNS towards you when he sees you with a camera. He is a year oold now and is turning into a beautiful boy. I'm looking forward to shwing him later this year.
There are stil a few puppies available for sale from Amy Amber & our male Mambo. They are aftrer wonderful healthy parents and will woithout a doubt make fabulous companions :-)
Contact Dorotea at Kennel Skovkrogen for more information; (+45)42218945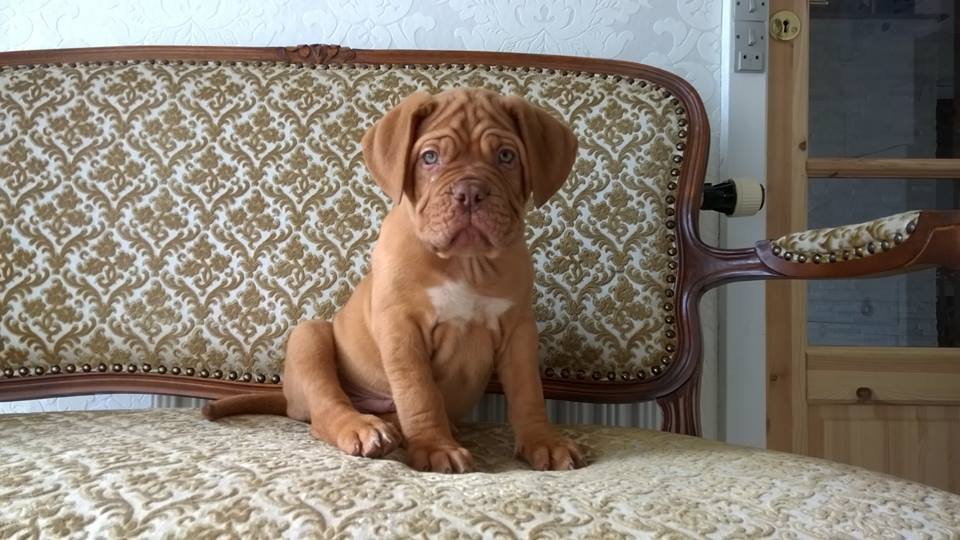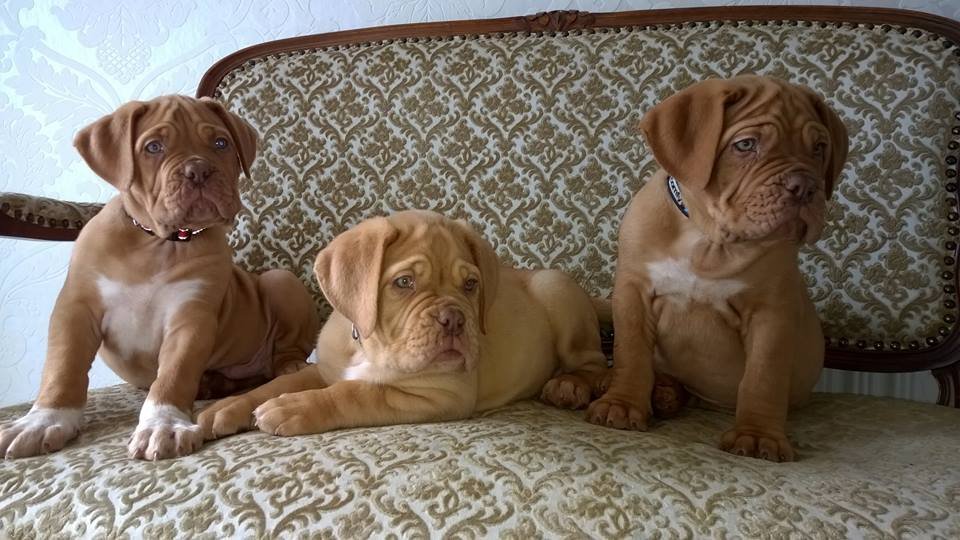 ______________________________________________________
09.02.2015:
Our lovely boy Mambo became a father to 9 puppies 2 weeks ago here in Denmark. 6 males and 2 females available - if you are interested in a puppy then have a look below;
Dad : Amazonite Mucho Mambo HD: A, ED: 0, Multi Champion.
Mom: Amy Amber HD:B, ED:0, Irish import

Born 29/01/2015-

Contact: (+45) 42218945.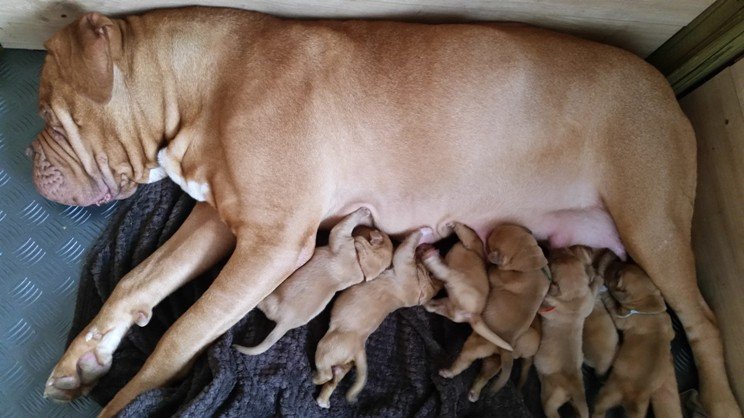 2 puppies from their previous litter - same combination
________________________________________________________
20.01.2015:
Life with dogs is sometimes up and down... Within a week we two sad e-mails that Vega and Calypso (once owned by us and later rehomed as they didn't get along) had passed away. Vega had just turned 9 years old and had up until a few weeks before been happy and healthy. Calypso was a few months past her 8th birthday, so basically both had reached a very good age for a Dogue de Bordeaux. Since they were both in our very first Dogue de Bordeaux pack they were both special to us. Vega was our very first Dogue de Bordeaux.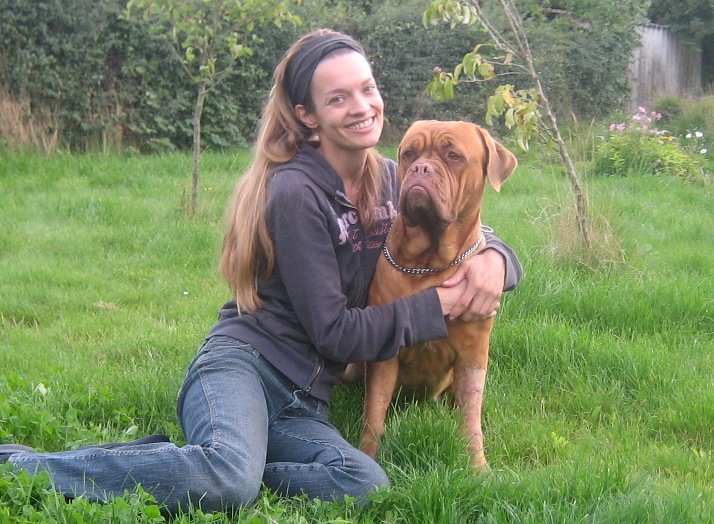 Me and Vega....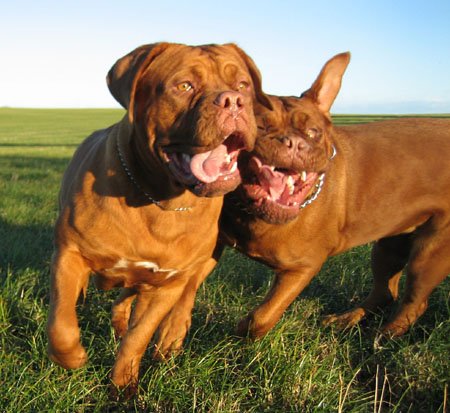 Calypso and Clio when they were 1 year old... Just like I remember them :-)
_______________________________________________________
08.01.2015:

So a new year has begun and here comes the first update...
Just before the year ended Rio and Nyx was scored and came out with the following results;
Nyx: HD: - ED: 1/2
Rio: HD: C/D - ED: 0
We plan to breed them both this year, so keep an eye on our "Puppy" section for more information. We will use Mambo on Nyx and haven't figured out who to use on Rio yet.
Mambo had a beautiful litter last year and I really loved the puppies, so I'm posting a few pictures for you to see for yourself;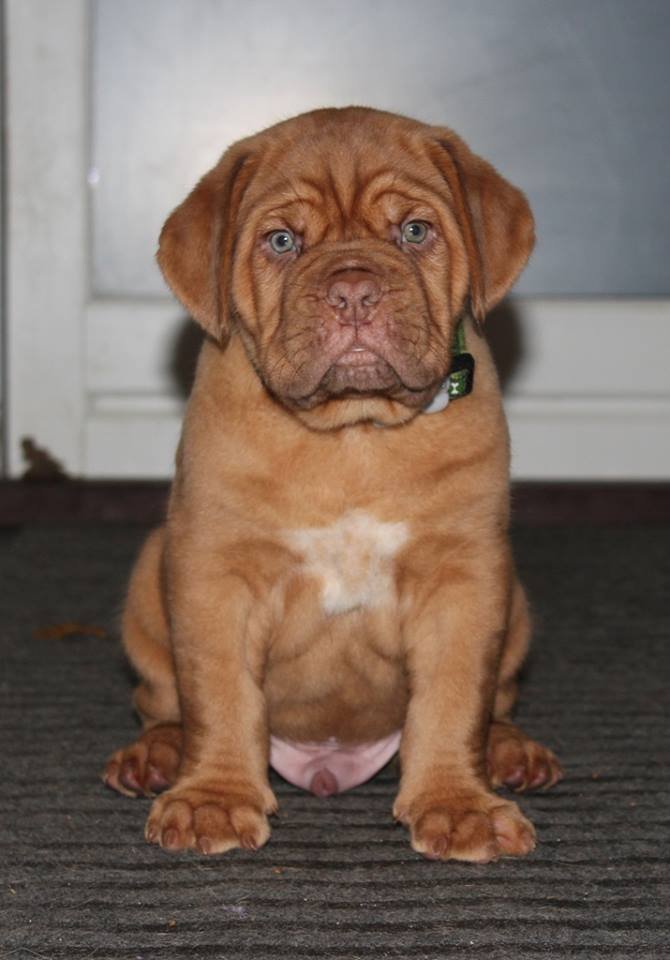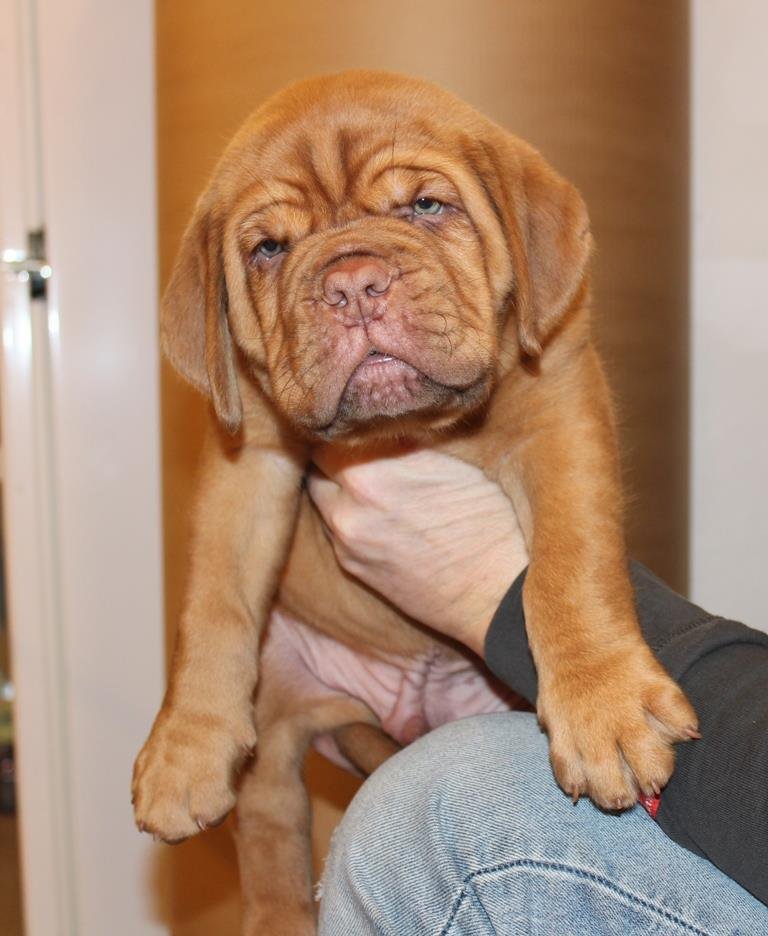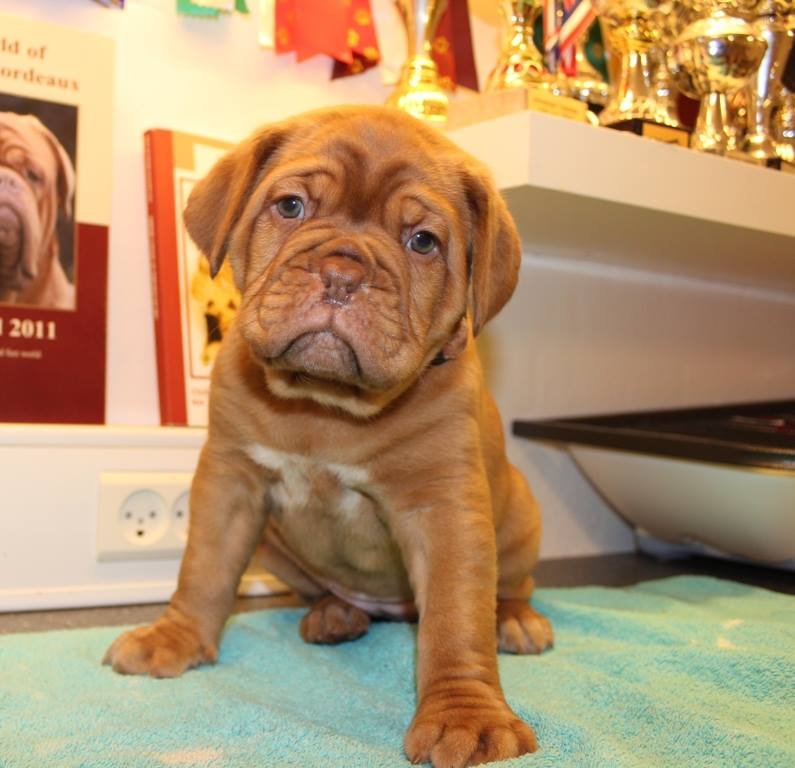 Mambo will be a father again soon in another kennel here in Denmark - at this point they haven't arrived yet, but we will post pictures as soon as they do.
On a more sad note we lost Matrix this year :-( He was owned by Kris Munday and lived in the States, but as he was just so special we had him for a long time as a puppy and continued to follow him closely in his new home. He was amazing in the show ring and won a lot and we were of course very proud of him. It's sad that he left us at such a young age, but the memory of him lives on in his beautiful offspring.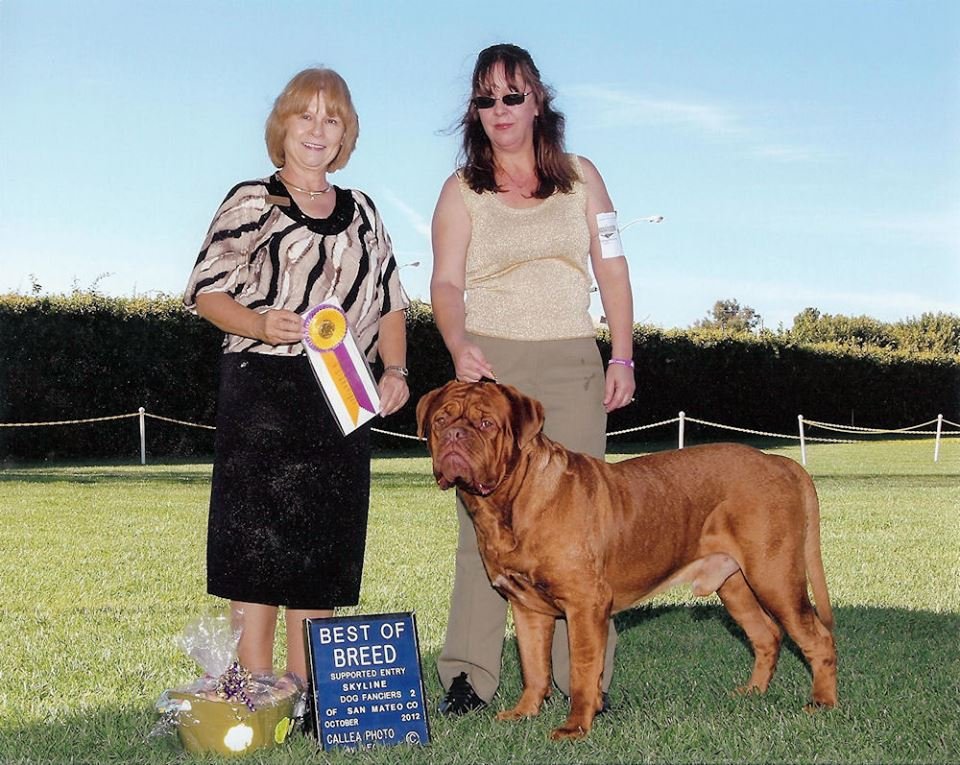 Best of breed 2 days in a row...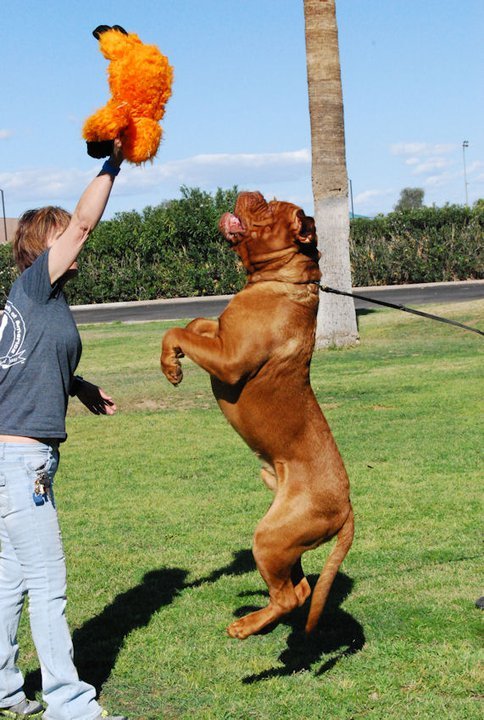 Such an athlete in spite of his size...
Amazonite Roumba (aka Seita) has started her show carreer really well in Finland by become BOB puppy 2 days in a row with excellent critiques.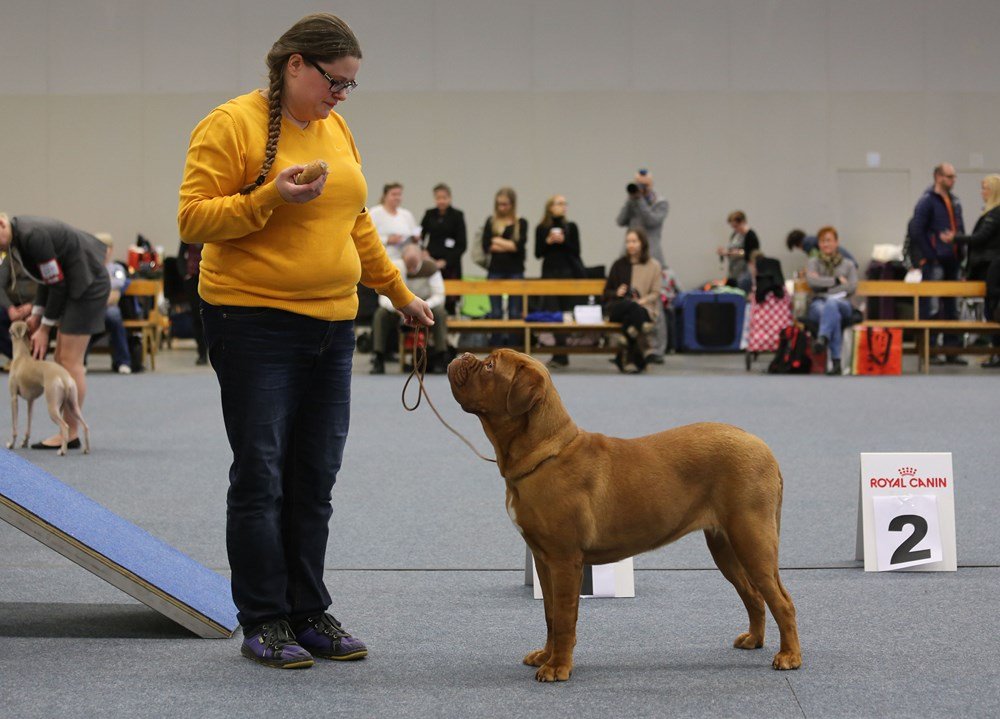 Otherwise we are looking forward to what this year will bring. As we ourselves (for a change!) has no baby plans of our own this year we will probably go to more shows and show Rio and Pondus, our two black pearls.